My week as a celebrity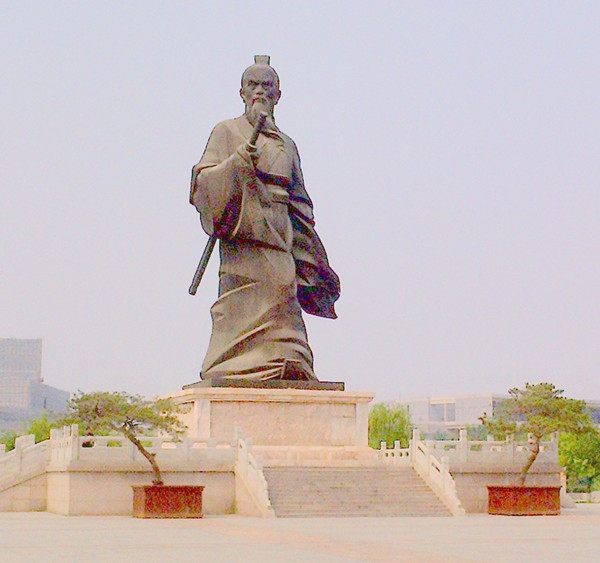 Taigong Lake National Park [Photo provided to chinadaily.com.cn]
So there I was in Linzi district, standing under an enormous statue of the Qi emperor and facing a television camera. The director patiently but urgently repeated the Chinese words I was supposed to learn on the spot, while 12 other people representing the television station and the local government looked on.
"How did this happen?" I thought to myself. "Why am I here, with all these people looking at me and a director pleading, like I'm a dim-witted starlet?"
Sometimes you can get a taste of what it feels like to be a celebrity just by being a foreigner in a smaller Chinese city. People stop and stare, some call out "hello," some want to take their picture with you, and some young people are awestruck when you speak to them. But I got to live the life of a TV celebrity, just a few months after my arrival in China.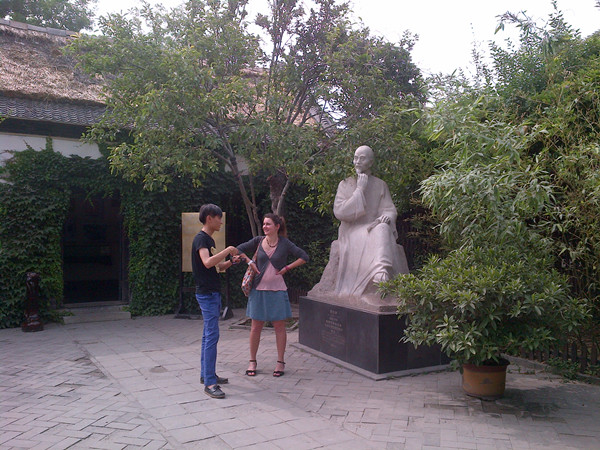 John and Camille with Pu Song Ling [Photo provided to chinadaily.com.cn]
It started when my school's department head informed me Shandong International Television wanted to do a program about foreigners living in Zibo and the six adjacent cities. The idea was to film us as we sampled the area's cultural heritage and natural beauty. Well I felt quite self-conscious, to tell you the truth. I broke out in a cold sweat whenever the camera came near me, starting in the classroom as they filmed me with my students. But the officials at our school were clearly pleased that we'd been chosen — despite the fact I couldn't speak Chinese — so I didn't want to be a wet blanket about the whole thing.
After filming at the school, it was onto the bus with several local government dignitaries, plus a translator, plus the television crew. For our first stop, we traveled all over the lovely city of Boshan, stopping here and there to admire the work of local artists in glass and ceramics.
We visited Linzi, home of the ancient Qi dynasty — and the enormous statue I mentioned above — and learned about the long history of the region. More banquets. On the last day, we went to the provincial capital, Jinan. There we met up with a flock of foreigners, representing the other six cities involved in this effort, and a full complement of dignitaries, such as the vice-governor of the province. With us were scads of cameramen and photographers. Together, we toured the beautiful Danming Lake, fed by underground springs and home to the largest water lilies I've ever seen.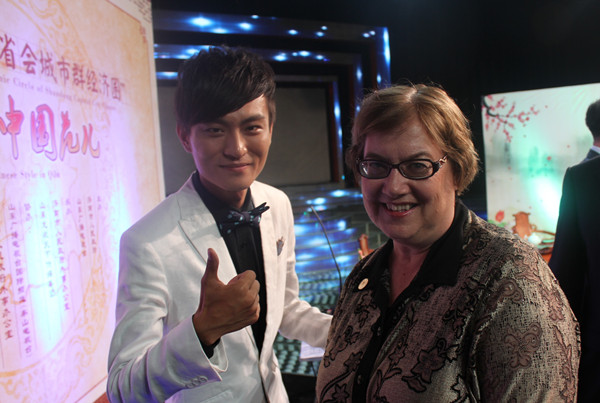 Me and directo john[Photo provided to chinadaily.com.cn]
But as wonderful as all this was, I was feeling increasingly nervous, because I knew that in a few hours, we'd all be going to the television station to film the grand finale of Foreigners' Views on Urban Economic Circle of Shandong Capital City Cluster. (That's the name of the show.) And there, at the TV station, I was to sing the folk song, Jasmine Flower — in Chinese. The foreign office had heard me singing while joking around with the director and thought it would be a nice touch for me, the foreigner, to sing this well-loved folk song. The prospect of singing didn't bother me much, but memorizing a random assortment of sounds, some of which include phonemes we just don't have in English, proved to be a daunting task. My students at the school were very encouraging and coached me on my pronunciation and urged me not to be nervous. But I was still trying to nail it down in my head as we traveled to the television station, which was quite a large and glamorous building. We were sent to have our hair and makeup done and then, a last bathroom break before going to the set.
I've adapted pretty well to the Chinese squat toilet, but on this day I discovered a latent hazard; because the toilet is basically a basin in the floor, you had better not trip or misstep on your exit from the stall. My foot slipped and began sliding into the toilet and I was worried that I'd sprain my ankle or something. I ended up crashing backwards out of the stall with my arms flailing wildly. Maybe this is why someone decided that, given my utter lack of grace or coordination, I would not make my entrance on the set as the other foreigners did. They walked through a sliding wall and down a steep flight of illuminated stairs with no handrail. But I was told to just walk in from the side of the stage. Good thing, too. Instead of gracefully floating down those stairs, I would have descended like an old woman getting off a bus. Not exactly Gwyneth Paltrow making an entrance to announce the nominees for Best Actress.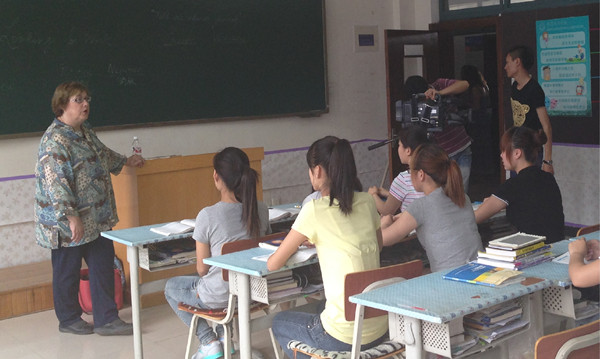 Class filming [Photo provided to chinadaily.com.cn]
We were ushered into a TV studio with a small live audience. The seven featured foreigners, including me, were introduced one at a time for some light banter and, in my case, singing. While I didn't manage Jasmine Flower perfectly, I didn't have a meltdown either, and the audience clapped along and seemed to appreciate the effort.
The TV people and the dignitaries and the administrators from the school all seemed very pleased with how everything went. There was one last celebratory banquet and then it was back home to get ready for another school day — a celebrity no more, but a teacher and foreigner with some great memories.
And yes, I did manage to say "I love Zibo" in Chinese.
Lona Manning taught ESL at Zibo Vocational Institute in Shandong Province. She is currently working on a sequel to her first novel, A Contrary Wind: a variation on Mansfield Park. Even though her Chinese has not improved, she and her husband enjoy life in China.