Serendipity in China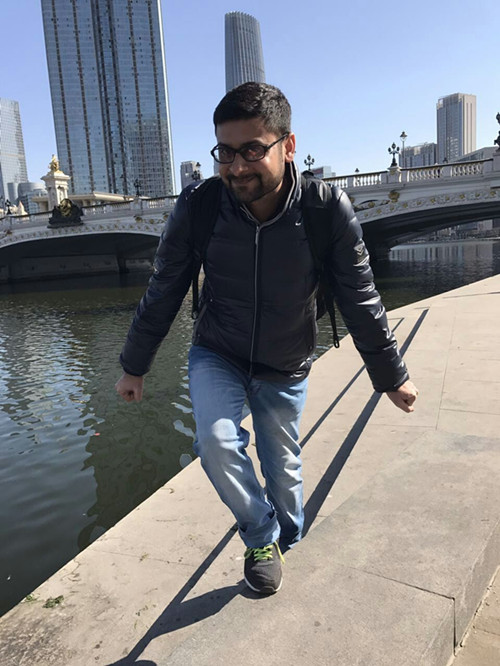 Zahid Javid poses for a photo in Tianjin on Feb 21, 2017. [Photo provided to chinadaily.com.cn]
What could be better than traveling to a foreign country to learn about its ideology, history and culture? I believe that studying abroad is a good opportunity every student should take to avoid ethnocentrism, to broaden one's horizons and to appreciate everything the world has to offer. I have dreamed about studying abroad since childhood. Luckily, I realized that dream in this unimaginably wonderful land last year.
The key factors in my dream have been my teachers and friends. After obtaining my bachelor's degree with distinction, they motivated me to apply for universities abroad, so I took a chance and searched for possible countries — China included — to pursue a master's degree in electrical engineering. My life had once been a struggle, but hard work, determination, enthusiasm for further education and the people around me have brought me to Shandong University, where I can pursue my dreams with full scholarship.
The truth is, I had a choice between two countries. But I chose China without any hesitation because of the country's diverse cultural norms and values, the famous Chinese hospitality, solid relations between Pakistan-China in promoting bilateral trade and acceptance and peace on both sides. Everyone makes me feel comfortable and I think of China as my second homeland. Not to mention the full support from my family for my decision.
No one can deny the technological advancements and the leading educational institutes of China, which rightly have an excellent reputation all around the world. That makes coming here a great aspiration for students and professionals interested in better career options. Such positivity has only boosted my confidence in traveling to China.
It was a cold day in September of 2016 when I took a plane from Pakistan to China, a connecting flight from Islamabad to Urmuqi then Urmuqi to Jinan. During my bachelor's, I heard the term "language barrier", but I knew exactly what it was when I experienced it at Urmuqi airport after I lost my luggage. It was then that I decided to learn the Chinese language by dedicating at least one hour daily to bridge this barrier. It turns out Chinese is such an exciting language, I am still progressing with full passion.
When I reached Jinan, volunteers from Shandong University warmly welcomed me and took me to the right campus. In one day everything was changed in a blink of an eye. I entered a totally different world, both physical and digital, one which I hadn't imagined before.
In the past year I've visited many incredible places in China. I enjoyed the beautiful seasides in Qingdao, the astonishing Great Wall and historical relics in Beijing, enlightening natural scenery and temples in Qufu, elaborate architectures and the enormous Eye in Tianjin, delicious local food and ancient heritage in Xi`an, the historical museum in Dongying and cool weather in Jinan. In the course of my visits I met many amiable and talented Chinese people.
I am impressed by how these individuals are dedicated to their work and with sincere effort they have made China a successful example for both developing and developed countries. The most impressive thing that I have encountered here is the digital transformation. With payment methods like Alipay and WeChat, transactions are convenient and secure. I think the reason behind the successful growth of China is the Chinese people;they are self-disciplined and very consistent in their workand also have a balanced schedule for everything, including work and fun activities.
I have no doubts: China is the best place for my research. In one year I have learned a lot here and still this journey continues, with promising prospects.
Zahid Javid is a Master Degree student in School of Electrical Engineering of Shandong University.