My memorable time in China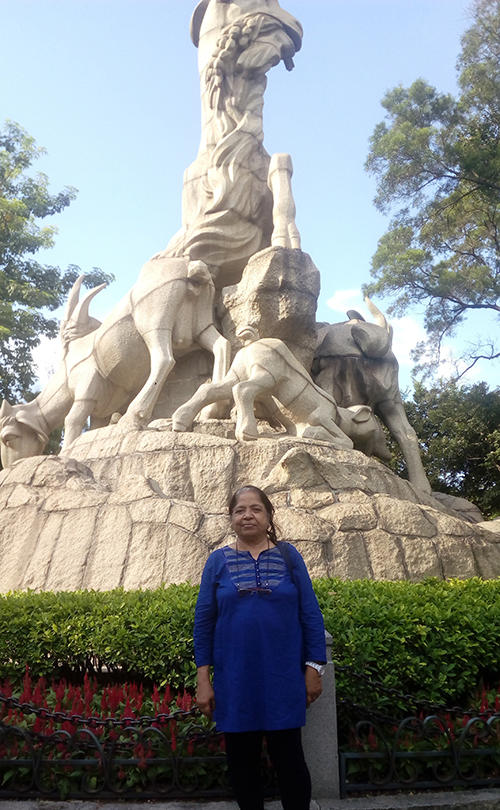 Dr.Jamila Hameed poses for a photo at Yuexiu Park, Guangdong on Oct 10, 2017. [Photo provided to chinadaily.com.cn] 
Though I haven't been living in China for long, I have discovered many interesting things; first and foremost is discipline among the locals irrespective of their age. They keep their surroundings and their roads clean. I have been to many countries but only here I have seen the roads getting cleaned with jets of water flowing from machines mounted on vehicles. There is no air pollution from petrol or diesel vehicles. They run on gas or electricity. The public buses are well maintained and they stop at places marked for them.
First of all, I want to share something amusing: I do not talk or understand Chinese. I went to a shop to buy soap. As I do not speak the language, I tried to convey the message using sign language. I scratched my left forearm with my right hand. The sales person understood it in a different way and gave me a floor cleaning brush. Then I signaled as if water was flowing from the head shower; again the sales person understood differently and gave me a long rod. Finally, I myself located the soap and bought it.
Another amusing episode: I wanted to get water jar from the office of the apartment but could not convey the message to the man in charge. So I showed the water in the fish tank and the man asked me whether I wanted the fish and tortoise. Fortunately for me, I located the water jar in the corner of the office and succeeded in getting it. Yet another episode: this happened in a restaurant. As I do not know how to use chopsticks, I asked for a spoon but the waitress brought me a big table spoon and I somehow used the big table spoon to get the long noodles into my mouth to the amusement of the Chinese sitting nearby.
As far as discipline is concerned, the Chinese follow certain principles; they are polite, honest and do not swear at others. They are kind toward the foreigners and help them readily whenever and wherever needed. They have ethics for hard work and excellence and lay emphasis on family and traditions. I have seen daughters and sons or both helping their aged parents, some paralyzed, without any grumbling.
The Chinese mothers believe in academic achievements. In schools, importance is laid on creating ideal school climate; mutual respect is established through communication, cleanliness and cooperation. Parents enforce discipline and see that their children are kind and well behaved and they believe that a society is centered on the household.
There is a Chinese proverb "Be not afraid of growing slowly, be afraid only of standing still". The Chinese are always active and keep themselves fit by doing various exercises irrespective of their age, be it young or old or even very old.
There is yet another Chinese proverb, "Behind an able man, there are always other able men" and cooperation is very much evident among the Chinese and they also believe in this "The person who says it cannot be done should not interrupt the person who is doing it".
They also follow "If you are patient in one moment of anger, you will escape a hundred years of sorrow".
I will be failing, if I do not talk about their rapid strides in technology, cultural growth, economic growth, highly developed transport system like the bullet train. I was very much impressed with the way the government provides cycles for transport to the common man. Everyone in the world is aware of the massive development made by Chinese in every field, be it information technology, computer, smart phones, televisions, international games, medical treatment, etc.
My admiration knows no bounds when I look at the attractive towering canton tower. I am unable to find words to describe its beauty. I am impressed with the creation of mobile applications for the translation of other language words into Chinese words and this is of immense help to foreigners.
Another thing worth mentioning here are the tall buildings. These skyscrapers take up less space than villas and independent homes. By the way, I live on the 32nd floor and always wonder how the workers had placed the outer unit of the air conditioner.
I can go on and on, but I think by now you have a fair idea about how China has developed so fast while at the same time maintained its culture and tradition.
Jamila Hameed is a visiting professor in Jinan medical university in Guangzhou.