Taichi: A dream come true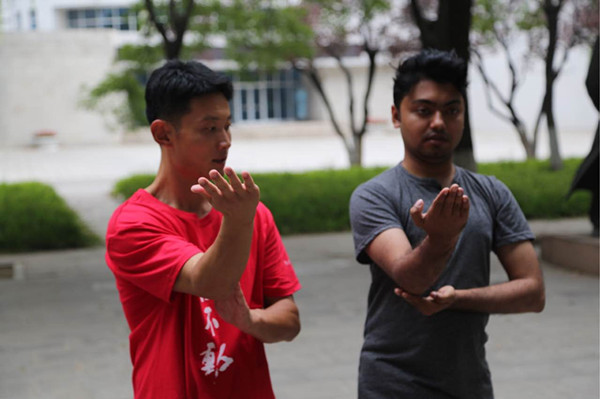 Dawood Ferdous (right) practices Taichi (or taijiquan), a Chinese martial art, in Jinan, Shandong province.[Photo provided to chinadaily.com.cn] 
As a student from Bangladesh who is studying for his master's degree at Shangdong University, I have been a witness of sorts to Chinese culture, and as such am really interested to learn the Chinese language and more about the country. I have especially noticed people here are so hard-working and civilized. My journey here was well-arranged and convenient. After watching the martial arts taichi in the opening ceremony, my pursuit to learn kung fu and taiji increased tenfold.
Since childhood, I have seen amazing action movies starring Bruce Lee, Jackie Chen and Jet Li, and I was always curious to learn the martial arts. Where there is China, there is kung fu, at least in my mind. Once I arrived in China, it was my dream to learn taichi and kung fu and master the techniques of martial arts. I chose taichi as an additional course to my other courses.
After my arrival on campus, I got up early in morning, as the jet lag had not yet worn off. When I went for a walk on the first day, I saw a number of older people practicing taichi slowly in tandem. I stopped and watched their movements closely. It fascinated me, and the very next day at registration time, I rushed to the admin office to choose taichi as my additional course. Within the next couple of days, I visited our campus and a few scenic spots in Jinan city. The traditional touch in the buildings is fantastic. It was amazing to see the Baotu Springs, Daming Lake and explore a number of beautiful places in Jinan and all over China.
The following week I was on the grounds early in the morning with my classmates and our teacher was ready to tell us about the taichi. Different from the other courses I chose, The taichi class is practical work, where you can learn and enjoy at the same time. In the lecture he told us that taichi is practiced for its health benefits. I was surprised to learn that the main concept behind it is defense training. The movement of the body is related to the yin and yang forces which are part of the taiji philosophy.
Each night of the six–day-long extensive practice, I was excited to explore new things the next morning. Every day before training in the morning, I woke up early and headed to the ground straightaway. The main principles that the teacher taught us were attitude, discipline and balance. I was taking every bit of the training seriously and trying to maintain my balance, which was a difficult job.
As a master degree student and social worker, I want to bring positive change to people's lives, especially woman and children. I also want to improve the living standards of Bangladesh by learning from Chinese welfare activities in this sector. I hope to work for women and children's development with the Chinese and Bangladeshi governments.
No dream is too small, and it is not impossible to fulfill our dreams, no matter how difficult they are. Our attitude, our willingness and our actions make the impossible become possible. Starting at Shandong University and making a new start in my professional career, I will strive to bring a positive change in society.
Dawood Ferdous is a Master Degree Student in Shandong University on CSC Scholarship.