14 years of China through western eyes
I first set foot in China, Shanghai to be exact, in late 2003. It was two years after China joined the WTO — and there is always a two-year transition — so Western multinationals and business students were beginning to understand China's importance. When I look back on that period, the present and the future, one word comes to mind: "innovation". That best describes the pace of change in China. It has not slowed and, if anything, China will see things change at an even faster pace in the next decade.
When I travelled with a Chinese contact from Shanghai to Nanjing in 2003, it took me 4 and a half hours on a K train. By the time I was living in Nanjing, in 2008, it took me two hours on a D train. In the current decade, the same trip took a bit over 1 hour on a G train running at 300 kilometers per hour. This kind of progress has not stopped – as of September, the G trains are running at 350 kph, reducing the journey to a little under 1 hour. Staggeringly, there is the possibility for a new style of high-speed train that could make the journey from Shanghai to Beijing possible in 30 minutes!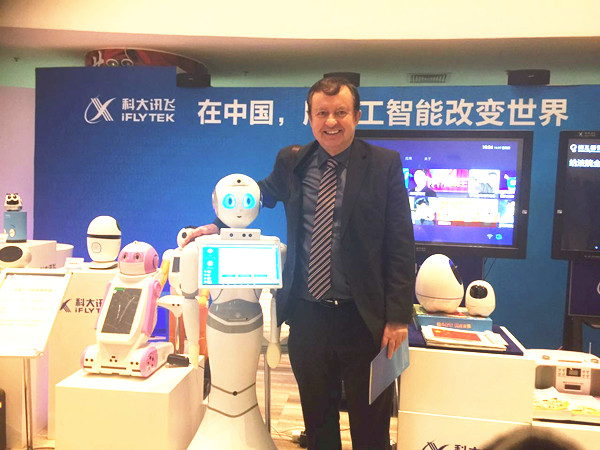 The author at an AI fair. [Photo provided to chinadaily.com.cn]
Living again in Shanghai for the second period of my time in China, I hear it is known as "the city of Innovation" and in earlier times "the city of experiment". It is, in my view, the most exciting city in China, if not the world, to live in. Back in 2003, standing on the historic Bund and gazing across to Pudong, there was a fantastic view of the Oriental Pearl TV Tower and its neighbor, the Jin Mao Tower. Gazing at that snapshot of the economic miracle of China, I just knew I wanted to come back to live in Shanghai. I did not expect that by 2010 these towers would be dwarfed by the new Shanghai World Financial Centre Tower, nor that by 2015 the Shanghai Tower — second tallest building in the world — would be looking down on its brothers.
Economic and infrastructure development happens so fast. Back in 2003, I had a 90-minute taxi ride to get from downtown "Old Shanghai" out to university campuses in deepest Pudong, with no metro stations to be seen in these neighbourhoods. In 2017 there are 14 lines, with more planned, and those outer areas are easily reachable by the subway system. Add to that the amazing super-capacitator buses, showcased at Shanghai's 2010 World Expo and now in service on several routes – buses running on electric power, recharged at bus stops by a connector high above, safely out of reach of passengers and avoiding the need for street trolley cables.
I had the opportunity to visit Hefei in nearby Anhui Province last year as a guest of the city government, and learned it is designated as a pilot city for national innovation. I saw amazing robotics applications that could revolutionize our lives and take the drudgery out of many tasks, and equally stunning developments in biosciences that could tackle key diseases and improve health management.
Returning to Shanghai and the pace of change, it is known as the "fast city" – perhaps exemplified by the 431 kph Maglev train that can whisk those arriving at Pudong Airport into the centre of town in 7 minutes. New shopping malls are developed and opened so quickly, and infrastructure work continues on a 24-hour cycle, improving roads and other amenities.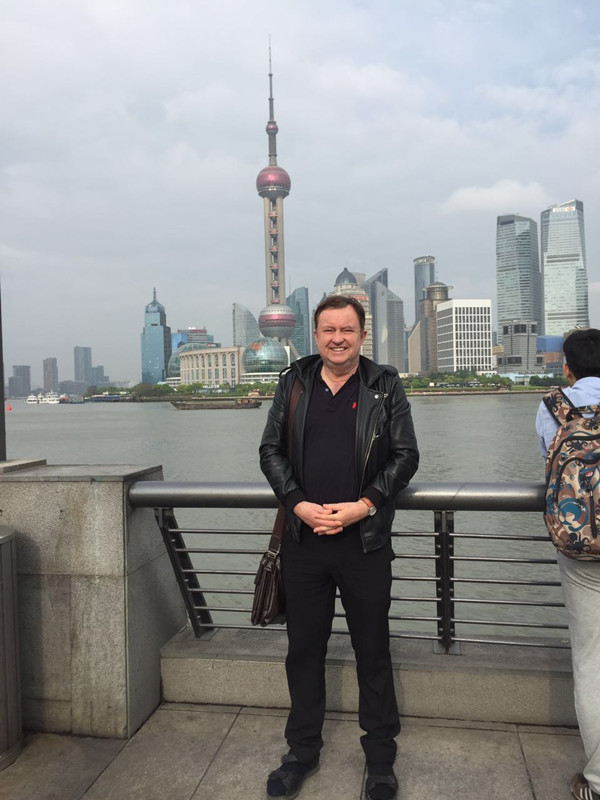 The author in Shanghai. [Photo provided to chinadaily.com.cn]
When I get a chance to return to my native London, it seems almost lethargic by comparison. There is a famous saying, "He who is tired of London, is tired of life." It should be updated to read "He who is tired of London should go to Shanghai." There one will see energy, optimism, creativity and glimpse what the future will look like in the economic capital of what will surely soon be the world's largest economy. In Shanghai, like much of China, the only constant is change. The "Chinese Dream" is thus made of this.