Life isn't about receiving but giving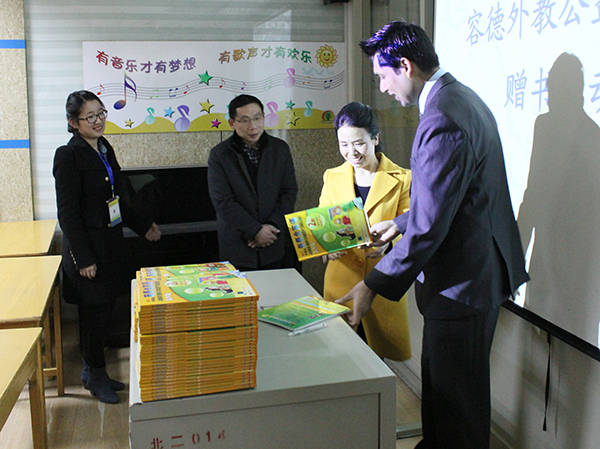 Dr.Muhammad Shahbaz(right),Miss Wang,Mr.Li weidong and Rebecca at the book distribution ceremony in Shandong province. [Photo provided to chinadaily.com.cn]
The lifestyle of Chinese people has changed over the last decade and that in turn has changed the life of foreigners in China. I have witnessed this transformation since 2006. The simple houses have become buildings and buildings have become skyscrapers. Although most cities now look like concrete jungle, the love and simplicity of the people has remained the same. Shandong people in China are famous for their friendliness and simplicity. When the national games were held in Shandong in 2009, the logo was called Friendly Shandong. I have travelled to more than 16 countries. I have travelled from east to west and from north to south of China. I have witnessed the global advancement of life. During the 11 years in China, especially in Jinan, I have experienced a number of moments which will remain stamped in my heart and brain forever. I will share one of these stories.
I was 18 when I first came to China and I have learned almost everything about the professional life in China and China has given me so many things in life. I always wanted to say thanks and contribute to some extent to the Chinese society and the people in return. So I proposed the idea of creating an organization and teaching children in remote areas to my friend. We selected 100 students from different schools and divided them into 2 classes and taught them every weekend. We chose the highly educated teachers to teach them. As the founder of the IECO (International Education charity organization) I was very delighted to teach in schools where the children were selected from different areas and these students had never studied from a foreign teacher.
My fellow friends and I decided to establish and embark on a mission as volunteers. With a successful start in October 2013, we have made the dream of "International Education" a reality. Thanks to the combined efforts of various members in our team, mostly students from Shandong University, and with the help of Ministry of Education Shandong Province and different districts school heads, we opened the doors of "International Education" in remote areas of different towns in Shandong province.
As of now, we have successfully implemented different programs, which extend from numerous districts in Jinan to outer cities in Shandong. Our mission is to deliver our area of expertise to different towns and ultimately to different districts in Jinan.