A trek to the east that empowered me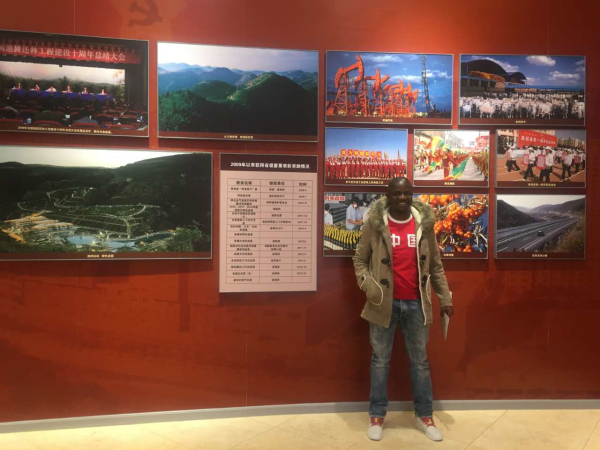 Ehizuelen Michael Mitchell Omoruyi is participating the events during retrace the steps of those brave Chinese soldiers through Yan'an in Shaanxi Province to commemorate the 80th anniversary of the Long March in 2016. [Photo provided to chinadaily.com.cn]
Everyone has a narrative. A narrative full of diverse choices and paths which led them to be who they are today. For that reason, I will start by saying never believe any prediction that does not empower you. To say my friends and loved ones were a bit concerned and confused by my seemingly reckless life choice of moving to China to study would be an understatement. I am sure many of you have confronted similar objections. However, studying in China was the best move for me; I did not have a single doubt in my mind. It was just so hard to explain it to everyone else. In my head and my heart, the choice to live and study in China made so much sense, but to everyone else, it was just a desperate, irrational attempt at escaping the realities of our economy problems and need to kick off a "real career." Having graduated and now working as a researcher at the Institute of African Studies, Zhejiang Normal University, it is so clear that the benefits of studying in China were so much greater than I ever could have imagined. Whether it is learning to enjoy the foods, acquiring valuable professional experience, mastering the Chinese language, or making new lifelong friends, studying in China made a profound impact in my life. When you empower people with information and knowledge, you bring the people closer to prosperity and development. Studying in China has empowered me and brought me closer to prosperity; what started as a little walk has been a pivotal milestone in my life. The Chinese society may have had room for many people, but my life with the Chinese people will be forever intertwined.
China is a country where I was able to experience the real glory of the world. As I began to integrate into the Chinese society I started to learn and imitate their ways of life which placed me above all my struggles in life. As every day goes by, the love I have for China upsurges for countless reasons: diversified culture, beautiful scenery, and the incredible people. It was a life-changing experience...generosity and kindness of the people and that is what made my life experience so amazing. For example, during my Master's program, I lost my dad so it affected me because I was unable to pay my tuition. My teacher stood by me and wrote a letter to the University authority, the University looked into my case and waive my tuition for me. I asked the lady that told me the good news why did they waived the tuition she said "sending you home is not the right thing to do based on your situation but rather than to show you compassion"; I cried after hearing the statement. It takes only someone who has gone through my situation to understand me at that moment.

China has gone through struggles and poverty, so it was easy for them to relate and understand my situation and show me compassion. This same compassion is what China is sharing with the world today by assisting developing countries reshaped their economies. All my years in China, the Chinese people have given me shoulders to cry on, reshape me, when I needed shelter they did not chase me out, when I needed bread they did not give me a stone, they have turned my mourning into dancing again. As a result of this warm reception from the Chinese people, I have taken China has my second homeland. This new found home reshaped my life and my point of views. The new home helped me take a step back and not to be so judgmental, but instead, view differences as exciting topics of conversation and opportunities to learn. The new relationships I made in China have changed my life for better, and it is scary to think that I almost missed out on them. It is, therefore, an honor for me to contribute either through research or through community service to the development of this great nation.
Looking back, I could recall having no idea of what it would be like in China, but I am glad I did come to China because it was such a good decision for me. The timing could not have been better with the economic boom and it was the time for the Beijing Olympics game in 2008. I have witnessed a huge transformation as well as enormous pivot and development during my ten years in China. I have grown so much since I step my foot into this great nation, and I also realized that you can get much more of an education from experiencing the diverse culture than you can get in a classroom. As infinite stars shimmering in a midnight sky, so are the desires of my heart. My stay in China has opened my mind to fresh ways of seeing the world and my past years in China have been a time of growth and maturity for both my mind and character. Looking back, these have been the most thrilling, inspiring, and fulfilling years of my life. The opportunity to immerse myself into a brand-new culture enabled me to realize just how small social circle was back home. All of my friends fit into the same demographic, lived in the same general area, and shared the same interests. I never once saw that lack of diversity as a problem until I went to China. The Chinese people have thought me how to take life as it comes and to seize each opportunity to develop myself because preparation meets opportunity. During my stay in China, what I have learned about dreams is that they are malleable, not set in stone; beacons of light to point people in a general direction. The dream I conceived as a boy might not be the same to the dream I am actualizing today as a man. Each turn I take in the winding path of my life leads to another pasture, valley or hilltop. For any of you reading this, I would like to encourage you to step out of your comfort zone and do things that empowered you and make you happy, because If you know me before, you will agree with me that stepping out of my comfort zone a decade ago and embarking on a trek to the east has really empowered me.
The author is a researcher of Institute of African Studies at Zhejiang Normal University.