Biased Western media get HK judiciary facts wrong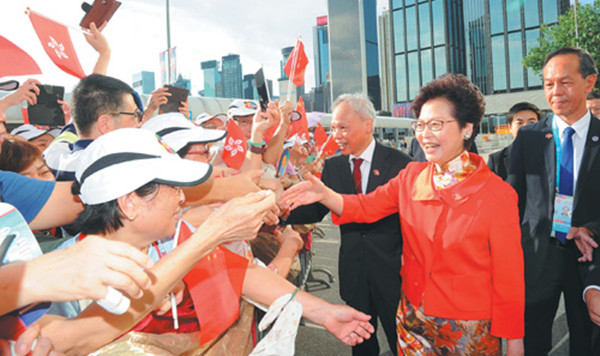 Chief Executive Carrie Lam Cheng Yuet-ngor (second right) and her husband Lam Siu-por (third right) greet the public before the flag-raising ceremony to celebrate the 20th anniversary of the establishment of the Hong Kong Special Administrative Region at Golden Bauhinia Square on Saturday. [Photo/INFORMATION SERVICES DEPARTMENT]
In an attempt to defend Hong Kong's judiciary from vicious, unjust attacks, particularly from the biased Western media, Carrie Lam Cheng Yuet-ngor, chief executive of the Hong Kong Special Administrative Region, reemphasized the vibrancy of the SAR's judicial independence on Saturday.
Without any basis or evidence, some Western media outlets and politicians, including a couple of US Congress members, joined a chorus last week to accuse Beijing of meddling in a Hong Kong court case, in which three young activists were imprisoned.
There is nothing new or unusual about such accusations, as some Western media outlets and politicians are known to harbor hostility toward China. And they hardly let slip an opportunity to soil Beijing's reputation.
But they were barking up the wrong tree when they attacked Hong Kong's judiciary and questioned its independence after the city's Court of Appeal sentenced Joshua Wong Chi-fung, Nathan Law Kwun-chung and Alex Chow Yong-kang to imprisonment of between six and eight months for offenses related to unlawful assembly.
The imprisonment of the three reflects "the voice of Beijing, not of justice", The Guardian said in an editorial. Chris Patten, the last British governor of Hong Kong, in a letter to Financial Times, said the three activists' imprisonment is "a further example of Beijing tightening its grip on Hong Kong's aspiration to remain a free society". And a Financial Times' commentator claimed Beijing is "clearly retreating from the commitments ... to guarantee free speech, press and assembly" for Hong Kong residents.
But the accusatory voices were silenced by the swift response from the SAR's judiciary, the Bar Association and Law Society of Hong Kong, which issued a rare joint statement condemning the "unfounded criticism" by "some local and international media". The two legal professional bodies, which together represent all the city's lawyers and have fought for judicial independence, said the judges handled the case strictly based on established legal principles and procedures, and all the defendants were given proper legal representation.
Indeed, the slanderers are guilty of pretending to be unaware of the independence and quality of Hong Kong's judiciary. The city's judicial independence is ranked eighth globally by the World Economic Forum, well ahead of the United States (29th). And the World Justice Project Rule of Law Index, which measures people's experience and perception about the rule of law across the world, placed Hong Kong at 16th among 113 jurisdictions on its 2016 list-ahead of "big democracies" such as the US (18), France (21) and Italy (35).
Of course, facts will eventually scotch the lies. But that does not spare us the obligation to set the record straight.