No laments if presidency Bannon fought for is over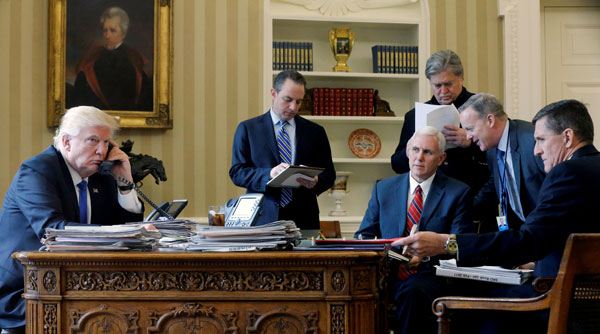 US President Donald Trump (L-R), joined by Chief of Staff Reince Priebus, Vice President Mike Pence, senior advisor Steve Bannon, Communications Director Sean Spicer and National Security Advisor Michael Flynn, speaks by phone with Russia's President Vladimir Putin in the Oval Office at the White House in Washington, US on January 28, 2017. [Photo/Agencies]
There are many reasons for concerned Americans and the rest of the world to heave sighs of relief at Steve Bannon's departure from the White House.
His removal is conducive to both curing the ideological rift at home and appeasing international anxiety over the United States' policy orientations.
Bannon was the man who helped Donald Trump get into the White House, although President Trump has been reluctant to give him full credit.
He was allegedly behind many of the controversial policies introduced by Trump, from the anti-Muslim travel ban to the US' withdrawal from the Paris Agreement.
He was deemed the mastermind of the Trump administration's populist, nationalist policy framework, which has put the US at odds with even its allies.
And in China, Bannon is notorious for his pre-White House clamor about a war with China in the South China Sea, as well as the latest call for the US to be "maniacally focused" on an "economic war with China", which he said is "everything" to him.
But his going will hardly be the "turning point" some optimists want to see in US foreign policies, especially its China policies. Firing Bannon may just be a political sacrifice that had to be made in the face of a dissatisfied home audience. Aside from some remarks that were at most embarrassing to Trump, there is no sign the two have parted ways on the fundamental issue of direction.
It is an ironic coincidence that the same day Bannon got the axe, US Trade Representative Robert Lighthizer declared a probe was being launched into Chinese trade practices under Section 301 of a 1974 law.
Whether or not the announcement was a farewell gift for Bannon the self-labeled "economic nationalist", as some have speculated, it should at least be a reminder that the dark clouds of a potential trade war are not going anywhere even with the hawkish Bannon gone.
Since the opening shot has been fired, our best hope of averting the trade war Bannon has been after is US investigators and the negotiators of both countries demonstrate reason and transcend prejudices. Because there will be no winner in the kind of tit-for-tat battle he covets.
The messy state of affairs facing the Trump administration, at home and abroad, is telling proof of the failure of the radical approach Bannon adopted on real-world issues. There is nothing to lament if the Trump presidency Bannon had fought for is over. The US needs a different Trump presidency. So does the rest of the world.