Beijing, Manila show the way to sea of tranquility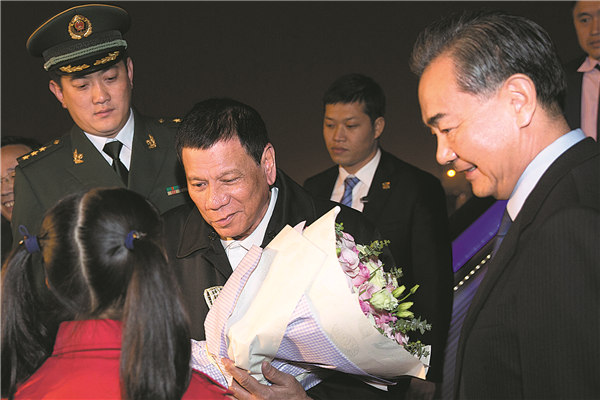 Philippine President Rodrigo Duterte, accompanied by Foreign Minister Wang Yi, is greeted at Beijing Capital International Airport at the start of his fourday state visit on Oct 18, 2016. HE XIAOHUI / FOR CHINA DAILY
One needs to look no further back than a couple of years ago, when China and the Philippines were deeply mired in distrust and rancor, to appreciate how territorial disputes improperly handled can become a major source of antagonism between countries.
But likewise, looking back over the last nine months or so and tracing the improvement in their relations, it is evident that territorial disputes, if handled with care, do not have to be an obstacle to friendly ties and mutually beneficial cooperation.
Of course, what has reversed the polarity of relations is not simply good fortune but their mutual efforts and concrete actions to realize their shared resolve to escape the dangerous current souring their relations and to work together for a friendly future.
Hence, it is good to see China and the Philippines are seriously mulling energy cooperation in the South China Sea, which was the venue for contention between the two countries until June last year under former Philippine president Benigno Aquino III.
According to Philippine media reports, Philippine Foreign Affairs Secretary Alan Peter Cayetano said at a news conference in Manila on Wednesday that Philippine President Rodrigo Duterte has already given the green light to the Philippines jointly exploiting oil and gas reserves in the South China Sea with China.
Moving forward with energy cooperation in the South China Sea, which was also endorsed by Foreign Minister Wang Yi during a trip to Manila last month, sends a positive signal that the two countries have found a way to manage their territorial disputes.
The good momentum in China-Philippines ties caters to the interests of both countries and does a power of good to the region as a whole by setting a good example for other countries on how to properly manage differences. As long as countries adopt a constructive approach, there is no reason why the disputes should threaten peace and stability in the region.
China has long proposed that countries shelve their differences and jointly exploit the resources in the South China Sea. But over the years, China's suggestion has largely fallen on deaf ears while a few countries have competed with each other to drill for oil and gas in disputed areas, which has only served to ratchet up tensions.
The deepened cooperation between China and the Philippines not only paves the way for a final settlement of their disputes but also opens the door to establishing the South China Sea as a sea of peace, a sea of friendship and a sea of cooperation.