Agreement sign of shared resolve to reduce risks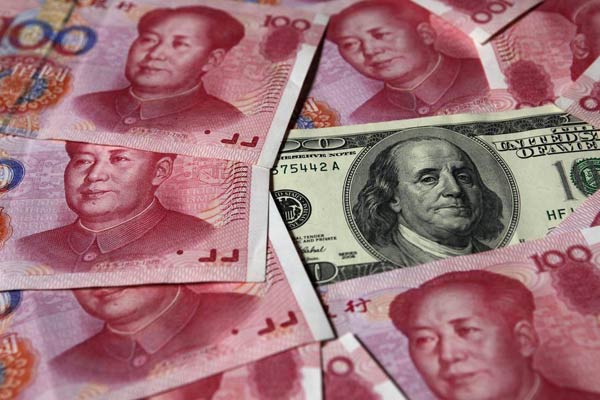 A $100 banknote is placed next to 100 yuan banknotes in this October 16, 2010 file picture illustration taken in Beijing. [Photo/Agencies]
The agreement signed in Beijing on Tuesday to improve communication, relations and exchanges between the militaries of China and the United States is a significant effort to manage the differences between them and avoid miscalculations.
Since Joseph Dunford, the chairman of the US Joint Chiefs of Staff, who signed the agreement with his Chinese counterpart Fang Fenghui, said that both militaries have many issues on which they don't necessarily share the same perspective, such an agreement is clearly necessary.
While it is natural for China and the US to have differences in many areas, there is no reason their differences should stand in the way of efforts to develop better bilateral ties unless one side keeps pushing the envelope to find the other's bottom line, and thus risk crossing it.
Which is something the US military has been doing with its so-called freedom of navigation operations in the South China Sea since former US president Barack Obama initiated his strategy of rebalancing to the Asia-Pacific.
China does not hinder freedom of navigation in the South China Sea and it has no intention of doing so. Nor does it harbor the ambition to bully any country with its military might. Which explains why China seeks to resolve its territorial disputes in the South China Sea through direct negotiations with the countries concerned, and why time and again it has proposed shelving the disputes and jointly exploring and exploiting the resources in the South China Sea with its neighbors.
But its peaceful intentions do not mean China will tolerate the intrusion of foreign warships into its waters in the name of freedom of navigation, something China regards as a lack of respect for its core interests. Which is why it is adopting countermeasures. It would be against its interests for China to accept such a military intrusion as normal or acquiesce to the deception that it is in defense of freedom of navigation.
Given the fact that China-US relations are the most important bilateral relations in the world, whether both militaries can avoid misunderstandings is of utmost importance not just to themselves but also the world.
That is why the agreement is to be welcomed as it may facilitate better communication and increase trust between the two militaries so they can avert a miscalculation.
It is now imperative that both sides make efforts to build the planned communication mechanism for their joint staff departments on the basis of the agreement so they can better deliver on their shared commitment to reduce risks.