Rule of law and justice must always prevail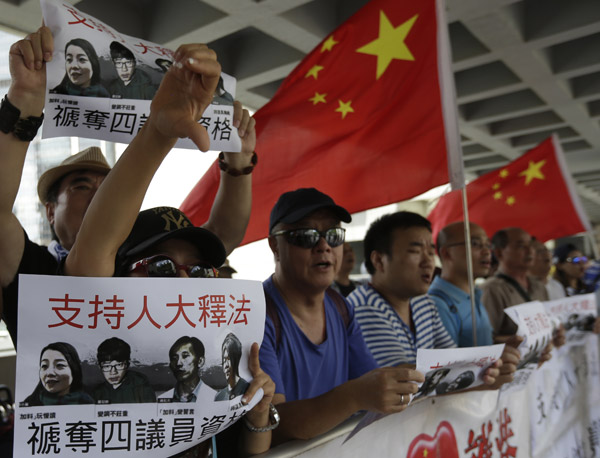 Residents outside the high court hold placards and shout slogans on Friday to support the disqualification of four lawmakers who did not follow the requirements when they took their oaths to serve on the Legislative Council in October last year. [Photo by ROY LIU/CHINA DAILY]
In a written ruling on Friday, the Court of First Instance of the Hong Kong Special Administrative Region disqualified four opposition members of the Legislative Council (LegCo) on the ground that they deliberately messed up their oaths of office at the swearing-in ceremony last October and therefore violated Article 104 of the Basic Law and Section 21 of Hong Kong's Oaths and Declarations Ordinance.
The ruling concluded court deliberations over a judicial review filed by Leung Chun-ying, then Hong Kong chief executive, and the Department of Justice challenging the legitimacy of the four wayward politicians' LegCo membership.
It is a ruling Hong Kong residents had been waiting for since the High Court began hearing the case and yet another proof the rule of law in the SAR is still sound and effective.
The four-Leung Kwok-hung, Lau Siu-lai, Nathan Law Kwun-chung and Yiu Chung-yim-now join former lawmakers-elect Sixtus Leung Chung-hang and Yau Wai-ching, who were disqualified for the same reason late last year. They all changed the text of the oath of office and/or put on acts of mockery to show they reject the whole idea of taking the oath according to the Basic Law, which is mandatory for all legislators-elect. And the failure to do so means disqualification from LegCo.
The two cases show that certain political figures have no respect for the rule of law and hold a particular grudge against the Basic Law because it is a law of the People's Republic of China, the sovereign state Hong Kong is a part of.
The latest court decision deems Leung, Lau, Law and Yiu disqualified from office the day they messed up with their oaths of office last October, which means they have no right to participate in LegCo business any longer.
However, all four of them, with the support of their fellow legislators, refused to leave the conference room when the chairman of the LegCo finance committee, which was in session at that time, told them to leave after hearing the news about the court ruling. As a result the chairman had to adjourn the meeting till Saturday. That some so-called lawmakers are hell-bent on defying court rulings shows their true color. And one could imagine how much respect these now-disqualified lawmakers have for the legal system.
Apart from the six disqualified legislators, some other LegCo members, too, didn't take the oath of office according to relevant laws. Several others are suspect and may have to face justice in the near future. Some of them had indulged in equally deplorable acts on a previous occasion and got away with it. The court ruling shows no one can violate the law and expect to escape justice.