Law has to seek truth in US kidnap case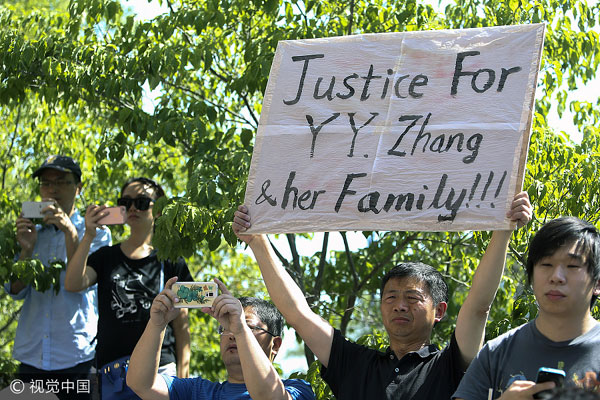 People react at the end of the bond hearing for Brendt Christensen outside of the US Courthouse on July 3, 2017 in Urbana, Illinois. [Photo/VCG]
A US federal grand jury indicted Brendt Christensen on a count of kidnapping on Wednesday in connection with the disappearance of Zhang Yingying, a 26-year-old Chinese research student at the University of Illinois, and who was last seen at its Urbana-Champaign campus on June 9.
Christensen will now formally enter a plea to the charge at an arraignment scheduled for July 20.
The penalty for kidnapping is up to life in prison if convicted. And for many in China, it is an open and shut case.
Surveillance video shows Zhang, who was on her way to sign a lease for an apartment, climbing into a vehicle that investigators later identified as Christensen's car.
A search of the car found the passenger's side had been thoroughly cleaned.
And a search of Christensen's cellphone found he had visited a website that included threads on "perfect abduction fantasy" and "planning a kidnapping".
However, an indictment is merely an accusation.
Although people may have decided in their own minds that Christensen is guilty based on the reports they have avidly been following, he has not confessed to any crime nor has he been proven guilty in a court of law. That means, as the US Attorney's Office in Urbana reminded people, the law must presume him innocent.
Since the one-page indictment on Wednesday did not offer any new details beyond what the FBI and prosecutors had already revealed in an affidavit and court hearings, the whereabouts of Zhang, and whether she is alive or not, remain unknown.
However, a criminal complaint filed before Christensen was arrested on June 30, shows that although there have been many reported sightings of Zhang, law enforcement officials believe she is dead.
The uncertainty surrounding her fate, and people's clinging to the hope that she will still be found alive and well, has provoked an outpouring of anger among her compatriots directed at the investigators, who have been unable to determine what happened to Zhang after she got into Christensen's car.
It is to be hoped the investigation can be pursued until the mystery is solved, not only for the peace of mind of her parents, but also to show the law seeks justice for the victims of crimes who are not US citizens.
Zhang, from Nanping in East China's Fujian province, came to the university in late April as part of a one-year research appointment in the Department of Natural Resources and Environmental Sciences.
Meanwhile, since the United States is home to the largest number of Chinese students studying abroad-about 330,000 last year, according to the US Student and Exchange Visitor Program-yet many of them are naive to the possible dangers they may encounter.
Zhang's case should prompt the authorities in both countries to enhance Chinese students' safety awareness when they go to study overseas.