China-Thailand rail deal will also benefit region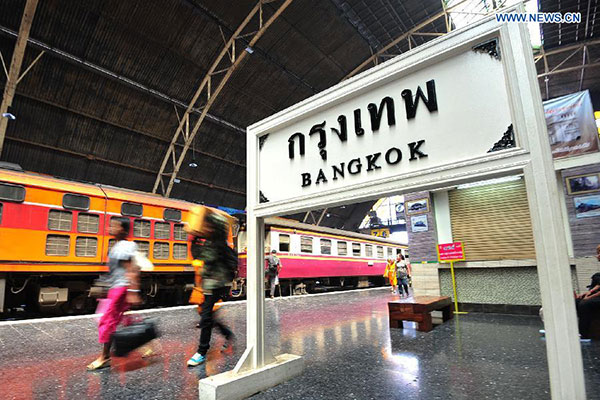 People walk at Hua Lamphong Station in Bangkok, Thailand, Sept 21, 2015. [Photo/Xinhua]
There's no gain without pain, as the saying goes, and that's certainly been true of the China-Thailand high-speed railway, which has found its way strewn with obstacles before the first phase finally got the green light to go ahead on Tuesday.
After years of delay, Thailand's Cabinet finally approved $5.2 billion in funds to build a 252-kilometer railway that will cut the travel time between the Thai capital and its northeastern province of Nakhon Ratchasima from the nearly six hours it takes now to less than one and a half hours when it is completed in 2021.
According to the deal, Thai companies will be responsible for construction of the railway, due to start in September, while Chinese enterprises will design it, advise on its construction and provide technology and technical training, among other things.
With a maximum speed of 250 km per hour, the railway will help facilitate Thailand's trade and investment, and attract more tourists. More important, it will help restore the confidence of foreign investors after years of political turmoil in the country. The Thai economy has already rebounded after a decade of slowdown, with growth expected to reach 3.4 percent this year, but the railway project will further propel that good momentum.
The second phase of the project will see the railway extend from Nakhon Ratchasima to Nong Khai, across the Mekong River from Vientiane, capital of Laos, paving the way for a railway from Kunming, capital of Southwest China's Yunnan province, to Bangkok, and finally to Singapore.
The two sides first agreed to build the railway in Thailand as early as in 2010. That it has taken so long for the project to finally be put on track, after Thai Prime Minister Prayuth Chan-ocha invoked an executive order last month to clear the legal and political hurdles standing in the way, speaks of the need for China to better communicate the benefits of the Belt and Road Initiative to all members of society in countries along the new Silk Road routes.
There were disagreements on costs, loan interest rates and labor rules, but failure to kick-start the infrastructure project earlier was mainly due to the concerns among Thais about how much ordinary people would benefit from the railway.
However, both countries believe that their and the region's economic development potential will be further boosted by the railway, which will serve to promote the construction of a trans-Asian high-speed railway network.
And it shows that China and countries in the region are willing to join hands to create a favorable trade and investment environment from which all can benefit.