Seizure of Mosul far from final triumph over terrorism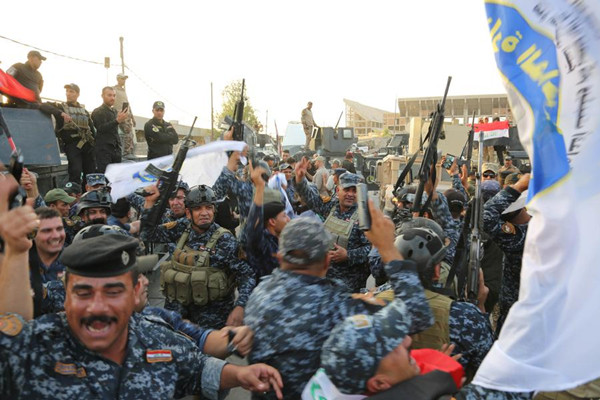 Iraqi soldiers attend a celebration for liberation of Mosul in Mosul, Iraq, July 10, 2017. Iraqi Prime Minister Haider al-Abadi on Monday formally declared Mosul liberated from Islamic State (IS) militant group after nine months of fierce fighting to dislodge the extremist militants from their last major stronghold in Iraq. [Photo/Xinhua]
On Sunday, Iraqi Prime Minister Haider al-Abadi declared victory in the fight to reclaim Mosul from the Islamic State, after a nearly nine-month battle to retake the city, which was captured by the terrorist group three years ago.
After Mosul, Raqqa in Syria is the last major stronghold of the IS terrorists in the Middle East, and there is growing optimism that forces in Syria will soon regain control of that city.
But while these developments signal significant progress is being made in the international efforts to combat the extremist organization, there can be no room for complacency. IS may have lost Mosul and soon lose Raqqa, but it still controls areas in both countries in which it can regroup. Some of the jihadists may also flee to other countries, where they will pose a severe security threat.
Countries around the world, especially those that have been the victims of terrorist attacks before, should step up security measures to preempt revenge attacks by IS sympathizers and be on high alert to dispersed IS fighters trying to enter them.
Indeed, there is still a long way to go before the world can claim final victory against IS. Even when the group does finally fall, the world will need to be prepared for what will happen next, as internationally the threat of terrorism, although diminished, will still exist.
Iraq and Syria will have to restore stability and address the social and political divisions that have fueled the rise of IS, and countries outside the region need to reflect on the intervention that caused the chaos in which IS was able to take root.
After waging a war that toppled the regime of Saddam Hussein, the United States failed to foster an inclusive government in Iraq. As a result, the country plunged into factional war and chaos. Meanwhile, turmoil and anarchy have reigned in Syria since Western countries tried to instigate regime change in the country.
The IS group thrived by seizing the opportunity that the chaos presented in these two countries. Its success prompted other terrorist groups to pledge allegiance to it, extending its influence beyond the region, and it has posed the biggest security threat to the world in recent years.
As well as stability in region, the international community needs to forge closer security cooperation to win the fight against IS and other terrorist groups. It also needs to find a way to counter the jihadist ideology that has attracted young Muslims in many countries who have been left on the fringes of society.