Heritage sites at risk from over exploitation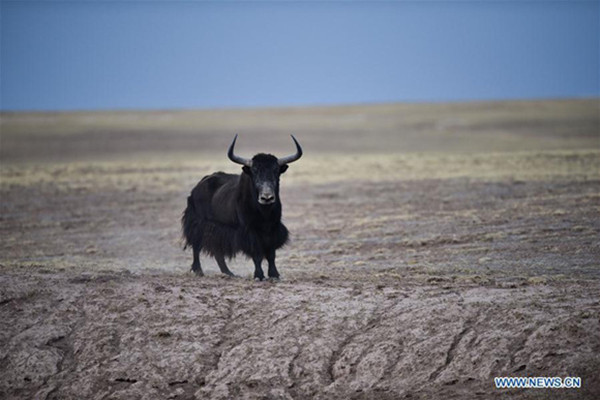 Photo taken on Dec 1, 2016 shows a wild yak in Hoh Xil of Northwest China's Qinghai province. The 41th session of the World Heritage Committee on July 7, 2017 decided to put China's Qinghai Hoh Xil on the prestigious World Heritage List as a natural site. [Photo/Xinhua]
With the inclusion of Gulangyu Island, called Kulangsu in the local dialect and known for its well-preserved historical buildings, and Hol Xil, a plateau famous for its natural beauty and biodiversity, China now has 52 sites inscribed on the UNESCO World Heritage list, which was established to safeguard unique and irreplaceable cultural and natural sites around the world.
The decisions, announced on the weekend, should not only be seen as another reason for the Chinese people to take pride in their history and culture, but also a reason to take pride in the conservation efforts that enabled these two sites to meet the selection criteria. Their inclusion means only Italy, with 53, has more sites on the list.
This feat has not been easy, given that China only became a signatory to the Convention Concerning the Protection of the World Cultural and Natural Heritage in 1985, and each country is allowed to nominate only two sites each year.
Behind the successful bids to get the 52 sites inscribed on the list have been strenuous government efforts to protect the nation's natural, historical and cultural heritages, which have been under threat during the country's rapid development.
Take Hol Xil for example, the government established a nature reserve on the plateau in Qinghai province in 1997, in order to protect its fragile ecosystem and combat the rampant poaching of the endangered Tibetan antelope, whose numbers have recovered from 15,000 in 1998 to 60,000 today.
Yet unfortunately, many sites in China already inscribed on UNESCO's heritage list are facing increasing threats from commercialism and lack of adequate protection as local officials see them only as a major source of tourism revenues.
To accommodate the influx of tourists, hotels and infrastructure facilities are being built in some sites, many with safety hazards and at the cost of the local people's traditional lifestyles. Fires in 2013 and 2014, for example, caused irreversible damage to the old town of Lijiang, a cultural site in Yunnan province.
China's increasing number of heritage sites makes it imperative that the country improve its preservation capabilities, in terms of heritage site management and its legal framework, to better protect its rich natural and cultural resources.
Yet a country's World Heritage sites, which exhibit the best of its natural beauty, human values and cultural traditions, belong to all humankind, and it is the responsibility of not only the government, but every citizen to ensure they can be enjoyed by future generations.