SCO expected to consolidate regional solidarity at summit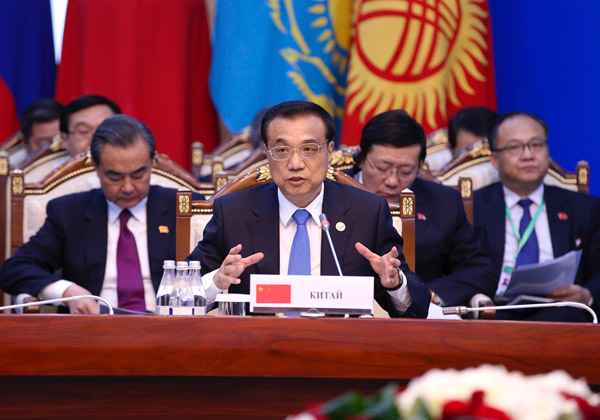 Premier Li Keqiang advocates the establishment of a free-trade zone at the 15th Meeting of the Shanghai Cooperation Organization Council of Heads of Governments in Bishkek, Kyrgyzstan, on Nov 3, 2016. LIU ZHEN / CHINA NEWS SERVICE
In recent years, the annual summit meeting of the Shanghai Cooperation Organization has grabbed increasing global attention due to its growing influence in regional affairs.
The upcoming meeting of the SCO Council of Heads of State in Astana, capital of Kazakhstan, will be no exception as it is expected to give the green light to Pakistan and India becoming members of the organization alongside the founders China, Kazakhstan, Kyrgyzstan, Russia, Tajikistan and Uzbekistan, and see the adoption of a convention on anti-extremism.
These crucial steps will further consolidate the organizational and institutional framework of the organization, enabling it to more effectively respond to the challenges confronting the region and the world at large.
Sixteen years ago in Shanghai, the six countries rallied for the first time to address the "three evil forces" of terrorism, separatism, and extremism and usher in a better security environment. Since then, the SCO has adopted a series of mechanisms to curtail the penetration of the three evil forces into its member states and helped prevent the unrest in West Asia spreading into Central Asia.
Security collaboration and economic cooperation are the "two wheels" of the bloc, with enhanced security coordination to combat terrorism and maintain stability helping to drive the members' economic cooperation.
The rampancy of extremism and frequent terrorist attacks across the world call for greater international consensus and more international collaboration to combat both the symptoms and root causes of the disease.
As a bloc that is increasingly looked upon as a defender of regional peace and stability, the SCO's planned expansion and convention on anti-extremism show it is willing to shoulder this responsibility and step up its efforts to fight all forms of the three evil forces.
With the accession of India and Pakistan, the SCO will cover three-fifths of the Eurasian continent and nearly half the world's population, which will not only make it more representative but also give it a stronger voice in forging international cooperation to defeat terrorism.
As President Xi Jinping has pointed it out, the SCO members have created a new model of international security relations, partnership instead of alliance, because they have embraced the principles of mutual trust, reciprocity, equality, consultation, respect for diversity and common development.
After the Astana summit, China will take over the SCO rotating presidency and Beijing is drawing up a work plan covering six major fields, politics, economy, security, humanities, foreign relations and mechanism building, so as to promote even greater solidarity among its members.