Shared commitment critical to counter threat of terrorism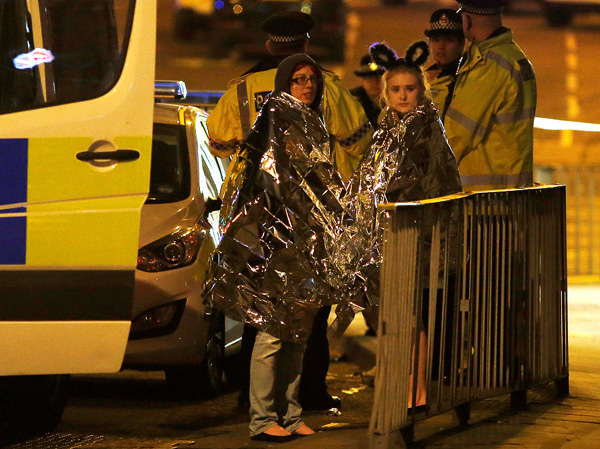 Two women wrapped in thermal blankets stand near the Manchester Arena, where US singer Ariana Grande had been performing, in Manchester, northern England, Britain, May 23, 2017. [Photo/VCG]
Monday's suicide bombing in the British city of Manchester, which killed 22 people, including children, was the most serious terrorist attack in the country since 2005.
The Islamic State, a terrorist group still wreaking havoc in Iraq and Syria, claimed responsibility, while the British police named the attacker as 22-year-old Salman Abedi, born in Manchester to Libyan parents, who died after setting off an improvised explosive device.
That a number of European cities have suffered terrorist attacks in recent years should be a reminder that security can never be emphasized enough. The fact that the deadly bombing in Manchester targeted a concert by the popular US singer Ariana Grande also shows the importance of buttressing up security in large sites and venues.
By attacking such places the instigators intended to trigger panic and anxiety to the greatest extent. More vigilance and greater efforts to enhance public security in places of mass gathering are necessary, not just in Europe but also elsewhere, as no country today is immune from the threat of terrorism.
The international community needs to come up with more effective ways to tackle the immediate threats of terrorists, while also eliminating the soil that breeds terrorist and extremist ideologies.
In recent years, especially after the rise of the IS group in the Middle East, there has been international cooperation in the war against terror both in the region and beyond. But compared with the aim of uprooting terrorism, what has been achieved is not enough.
Some countries fighting the IS group in the Middle East cannot agree with one another on either the targets or the objectives of the war against terror, and the lack of coordination and common goals has given the terrorist group breathing space.
Internationally, countries are also dragging their feet in sharing intelligence and cutting off the financing channels of terrorist groups. Not to mention that little has been done to address the root causes of international terrorism and extremism, such as poverty, social conflicts and inequality.
The spread of terrorist and extremist ideology worldwide and the recurrence of terrorist attacks in some European countries should sound a clarion call that international cooperation urgently needs to be strengthened to tackle both the symptoms and the causes of the disease.
As the war against terrorism and extremism remains an uphill struggle, countries around the world should neither lose confidence nor relent in the efforts to jointly combat the scourge, so as to usher in a world free from the threat of terrorism at the earliest date.