Joint work by Seoul, Beijing key to peace on peninsula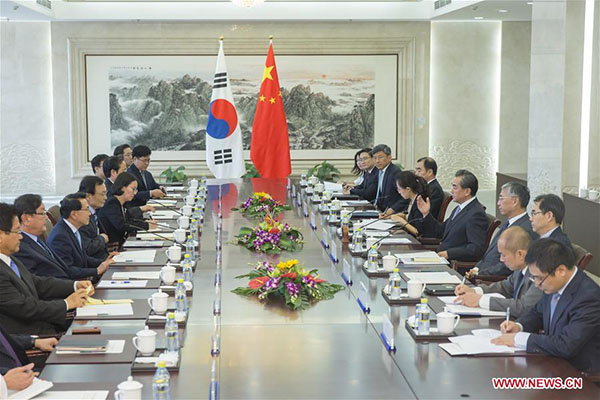 Chinese Foreign Minister Wang Yi meets with Lee Hae-chan, special envoy of the President of the Republic of Korea (ROK) Moon Jae-in, in Beijing, capital of China, May 18, 2017. [Photo/Xinhua]
Things became so ugly between Beijing and Seoul during the last days of the Park Geun-hye presidency that every sign of warmth evaporated. All because of the Terminal High Altitude Area Defense anti-missile system the United States and Republic of Korea militaries rushed into the country amid the political vacuum prior to the general election following Park's impeachment.
Now that the new administration in Seoul has displayed a change of approach to bilateral ties, as well as an awareness of the damaging potential of THAAD, a thaw may be around the corner.
On the heels of a fence-mending trip to Beijing by a ROK presidential envoy, it has been reported that Chinese travel agencies may soon restart ROK-bound group tours.
On Monday in Abidjan, Cote d'Ivoire, responding to a media query, visiting Chinese Foreign Minister Wang Yi urged Seoul to take advantage of the positive interaction following the envoy's visit, and "remove the thorn stuck in the throat of bilateral relations".
There is no bigger thorn than THAAD choking the relationship. Its removal, however, will take a lot more than the porous pretext the previous administration employed for its deployment-that THAAD is indispensable for the ROK's national security.
To what extent the system would be able to defend Seoul from Pyongyang's missiles aside, two things are obvious: THAAD cannot protect Seoul from Pyongyang's overwhelming artillery firepower and it compromises Chinese security.
Deploying THAAD is a no-win decision. Its only proven effect thus far has been estranging Beijing from Seoul, which would otherwise have been able to collaborate well in dealing with the Democratic People's Republic of Korea based on a shared belief that sanctions and dialogue should be pursued simultaneously. Their lack of united efforts has allowed the latter to conduct two more successful missile tests in disregard of international protests and sanctions.
A peaceful resolution to the DPRK's nuclear program would do away with the most-feared threat to the ROK's security and make THAAD redundant. The only sensible way to achieve that is for Beijing and Seoul to coordinate, cooperate and show solidarity.
In so doing, they can end Pyongyang's hopes of exploiting and profiting from their estrangement, and convince Washington that their approach works.
Pyongyang has repeatedly taken advantage of the schisms to continue its nuclear/missile adventure. The impressive progress it has demonstrated through the latest tests is a grim reminder that Beijing and Seoul need unity and shared resolve to solve the Korean Peninsula issue through peaceful means.