Rental regulation can help tame unreasonable housing market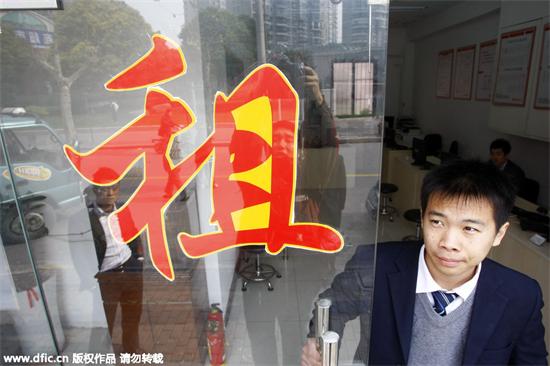 A man visits a house agent. [Photo/IC]
Since March about 60 major cities have reportedly unveiled 170 measures that set stricter mortgage restrictions and higher down payment requirements to root out market speculation. In the most recent case, Baoding, a city 200 kilometers southwest to Beijing, announced over the weekend that owners of property to be developed on a newly released piece of land will not be allowed to sell it within 10 years.
Such measures to curb soaring house prices have been called the toughest in China's history, and the latest official data seem to prove that such tightening measures have had some effect in cooling the once red-hot market.
Of the 70 major cities surveyed, 30 recorded a lower price increase year-on-year in April, up from 24 in March, according to the National Bureau of Statistics.
Yet the fact that investment in property development remained robust in April despite the intensified government controls shows there is no room for complacency.
Based on the property price-to-wage ratio compiled by the International Monetary Fund, housing prices in China's largest cities are already the highest in the world. And given that nearly 45 percent of new bank loans flowed into the housing market in 2016, according to China's central bank, housing market bubbles, fueled by speculative investments, are thought to pose not only one of the biggest risks to China's economic growth but also its financial security, which President Xi Jinping recently identified as a key element of national security.
Thus it is no coincidence that the Ministry of Housing and Urban-Rural Development issued a draft regulation on Sunday to standardize the residential rental market and make it an attractive alternative to buying houses, since the lack of a mature rental property market has been one of the reasons why the repeatedly introduced measures to curb speculation have only achieved short-term success.
The measures contained in the draft regulation, such as forbidding landlords from arbitrarily evicting tenants or raising the rent without notifying tenants three months in advance, all offer better protection of tenants' rights in a bid to encourage more people to rent a house instead buying one.
For only when people feel as secure in a rented house as in their own property will the mad scramble to purchase property be tamed.
The draft regulation is thus a welcome step toward achieving the top leadership's stated goal that houses should be "for people to live in, not for speculation".