Does the age gap matter in a relationship?
Editor's note: The love story of French President Emmanuel Macron and Brigitte Trogneux, 24 years his senior, has ignited heated discussion on age differences in relationships. Does age matter or should love prevail over all?
Michael (US)
I find it a very heartwarming love story. Not just this couple, but for any couple - what does age difference matter after all? If they love each other, are committed to the relationship and work on making it strong, that is what counts.
这是一个非常暖心的爱情故事。什么是年龄差异?如果夫妻相爱,彼此忠诚,努力让婚姻变得更加强大,这才是最重要的。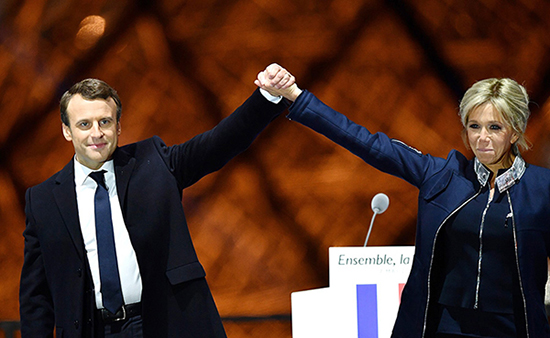 French presidential election candidate for the 'En Marche!' (Onwards!) political movement, Emmanuel Macron (L) greets with his wife Brigitte Trogneux (R) after winning the 2017 French election at the Esplanade du Louvre in Paris, France on May 07, 2017. [Photo/VCG]