Li's Australia visit to deepen bilateral ties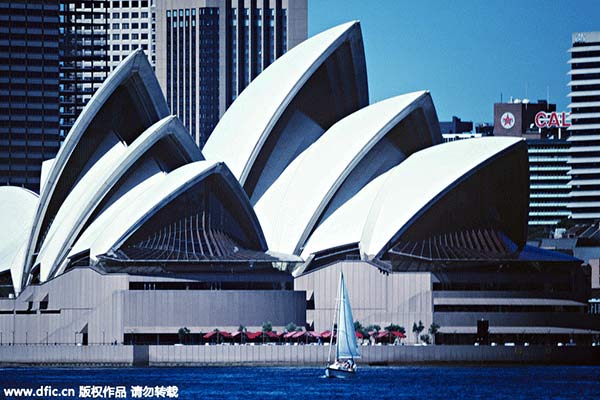 Sydney Opera House in Sydney Nov 11, 2014.[Photo/IC]
On Wednesday, Chinese Premier Li Keqiang will begin a visit to Australia. He is the most senior Chinese official to visit Australia since President Xi Jinping visited in 2014.
The significance of this visit has been highlighted by former Australian ambassador to China Frances Adamson, now secretary of the Australian Department of Foreign Affairs and Trade, who noted that this would be the first Australia visit by a Chinese premier in about 11 years.
China is Australia's largest trading partner, both as its largest export market and its largest source of imports. In 2016, the two-way trade reached 150 billion Australian dollars ($115.78 billion). Entering into force at the end of 2015, the China-Australia Free Trade Agreement recently celebrated its first anniversary. Also, this year marks the China-Australia Year of Tourism, a booming sector which saw 2 million visitors travelling between the two countries last year.
However, while the Asia-Pacific remains the most vibrant economic region in the world, ongoing tensions on the Korean Peninsula and the Trump administration in the United States have cast shadows on regional stability and prosperity. In particular, Trump's anti-globalization stance and "America First" policy have unsettled trading nations such as Australia by raising the specter of protectionism and even the possibility of an international trade war.
Both common economic interests and regional and global uncertainties have brought Australia and China closer together than ever before, providing Beijing and Canberra with solid foundations for continued and sustained economic cooperation.
So it is widely anticipated that in the leaders' meeting both Premier Li Keqiang and Australian Prime Minister Malcolm Turnbull will spend much time on trade and economic cooperation and development.
Indeed, the complementarity of the two economies goes beyond China's strong demand for Australian resources, which has underpinned a decade-long mining boom in Australia and helped Australia weather the global financial crisis. With China's vision for connectivity in the region and its steadfast support for open and inclusive economic globalization and free trade, along with Australia's increasing need for investment in infrastructure, China-Australian cooperation has plenty of potential left to tap. The Australian government's recent pledge of 2 billion Australian dollars to upgrade the country's Snowy Mountains Hydroelectric complex testifies to this potential convergence of interests. With the Beijing-led Asian Infrastructure Investment Bank aiming to support such projects across the region, China's role is crucial to the success of Malcolm Turnbull's performance as "an infrastructure prime minister".
But trade and broader economic cooperation is just one big-ticket item on a long list of common concerns on the leaders' meeting agenda, which will also feature cooperation on energy, education, science and research, innovation, law enforcement and tourism.
Beyond pushing their bilateral trade relationship forward, the two leaders will likely call for redoubling region-wide free trade efforts, especially now that the Trans-Pacific Partnership agreement has been officially abandoned by Washington. However, in areas of multilateral trade initiatives and regional security relations, differences continue to exist between Australia and China.
In a meeting with his Australian counterpart in February, Chinese Foreign Minister Wang Yi emphasised the need for more mutual trust between the two countries. Premier Li's visit will no doubt help enhance such trust, but Australian Foreign Minister Julie Bishop's recent remarks about China's role in the world highlights that there is still considerable trust deficit among the Australian political elite towards China.
As the first Australian ambassador to China, Stephen FitzGerald has advised, Australian leaders should show the vision and courage to "seek a relationship with China based on friendship, cooperation and mutual trust, comparable with that which we have, or seek, with other major powers". Such vision and courage helped bridge the seemingly insurmountable gap between the two nations during the Cold War, much to each other's long-term benefits. Premier Li's visit presents a great opportunity for the Australian leaders to demonstrate such vision again.
The author is an associate professor of international relations at Deakin University, Australia.