A power house of an economic cluster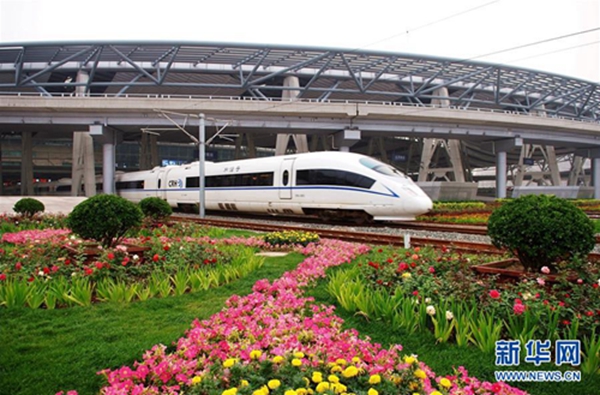 A high-speed train departs from Beijing South Railway Station, heading to Tianjin. [Photo/Xinhua]
The Beijing-Tianjin-Hebei region is a leading strategic platform for China's economic growth and upgrading as well as international cooperation and competition. Since President Xi Jinping called for the coordinated development of the Beijing-Tianjin-Hebei region in 2014, its integrated development has remarkably accelerated.
The coordinated development of the Beijing-Tianjin-Hebei region focuses on shifting Beijing's non-capital function-related facilities from the city proper, solving the capital's "big city" problem, optimizing its economic structure, building a modern transportation network and promoting shared public services, in order to build a world-class city cluster.
From 2014 to last year, Beijing closed down or shifted more than 1,000 manufacturing and polluting enterprises and more than 300 commodity trading markets. Traffic integration among Beijing and Tianjin municipalities and Hebei province has been deepened, ecological environment management and industrial coordinated development have made progress, and work on regional coordinated innovative community is moving ahead.
Despite all this, the Beijing-Tianjin-Hebei coordinated development process faces some problems.
First is the unbalanced development and ever-expanding gap between urban and rural areas in the region. Hebei still lags far behind Beijing and Tianjin in terms of industrialization and urbanization. Second, there is a huge wealth and development gap between big cities and the rest of the areas in the region. Third, the integration of the region's transportation networks should be expedited. And fourth, the environmental problem, especially air pollution, is serious in the region, which calls for more stringent action.
International experiences show the development of world-class city clusters and cities is mutually beneficial. Since the core city of the region is almost always the economic center too, building or developing a specific economic center is necessary for the coordinated development of the Beijing-Tianjin-Hebei region.
Beijing is in the post-industrialization stage, and focuses on financial services, research and development, and innovation; as such, it is the region's existing economic center. So in the future, the development of two sub-economic centers, Tianjin and Shijiazhuang, capital of Hebei province, has to be expedited, so as to develop a new economic center pattern. In the meantime, key regional cities such as Tangshan, Baoding and Handan in Hebei should be further developed, into new pivotal urban centers, as part of the overall urbanization process.
Besides, since Hebei is the weak link in the coordinated development of the region, it should welcome the transfer of industrial units from Beijing and Tianjin, improve its own development level and sharpen its competitiveness. The gap between Hebei, on one hand, and Beijing and Tianjin, on the other, should be narrowed, and the province's industrial structure should be upgraded.
Local governments and enterprises, on their part, should make more efforts to expedite the coordinated development of the region. And the local governments should strengthen the management of the environment, public services and social institutions.
Studies show that if Beijing, Tianjin and Hebei governments don't coodinate well, it would be difficult for the region to meet the emission control goal, and Hebei, because of its relatively low development level, cannot keep air pollution levels within healthy limits on its own.
To solve Hebei's air pollution problem, Beijing and Tianjin have to transfer some ecological compensation to it. And in the long run, regional legislation on environmental protection should be strengthened, and market mechanism used for air pollution management.
It seems the main problem with the region's coordinated development is the lack of coordination. So the three governments should establish cross-regional finance and taxation allocation mechanisms to promote cooperation and joint development.
And the shifting of industrial units from one place to another should be facilitated and accelerated through joint construction of industrial parks, and tax revenues used to develop underdeveloped areas to ensure smoother integration of Beijing, Tianjin and Hebei.
An Shuwei is a professor of economics at Capital University of Economics and Business, and Yan Chengli is a PhD candidate at the same university.