Cooperation helps Riyadh tap growth potential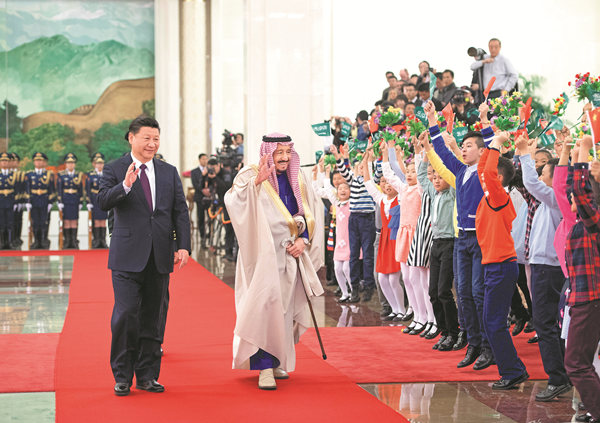 President Xi Jinping holds a welcoming ceremony for visiting Saudi Arabian King Salman bin Abdulaziz al-Saud at the Great Hall of the People in Beijing on Thursday.[Photo/ Xinhua]
While some countries blame globalization for their sluggish economies, others remain positive about and ready to explore business opportunities offered by free trade. Saudi Arabia belongs to the second group and is eager to continue reaping the fruits of globalization.
Saudi King Salman bin Abdulaziz al-Saud landed in Beijing on Wednesday on a state visit to China, which is the highlight of his one-month Asia tour. The Saudi king's visit comes 14 months after President Xi Jinping paid a state visit to Saudi Arabia in January 2016, during which the two countries elevated their ties to a comprehensive strategic partnership.
China-Saudi Arabia ties have developed in a sound way because the Middle East country sees China's rise as an opportunity and appreciates its proposals for regional and cross-continental development. Saudi Arabia was one of the first countries to respond positively to China's Belt and Road Initiative (the Silk Road Economic Belt and 21st Century Maritime Silk Road), which was proposed by Xi in 2013 with the aim to build a trade and infrastructure network connecting Asia with Europe and Africa along the ancient land and sea trade routes.
Chinese businesses have already helped develop 56 economic and trade cooperation zones in countries along the two routes with a combined investment of $18.5 billion, generating nearly $1.1 billion in tax revenues for and creating 180,000 jobs in those countries.
Given the Belt and Road Initiative's potential, Saudi Arabia, a hub connecting Asia, Africa and Europe, hopes to play a bigger role in the initiative and integrate it with "Saudi Vision 2030", a growth strategy Riyadh launched last year to diversify its oil-dependent economy. The Beijing-Riyadh relationship has reached such a high level also because the two sides share broad common interests.
In recent years, thanks to the complementary nature of their industrial structures, the two countries have deepened cooperation in such fields as energy, trade, investment and infrastructure construction. China became Saudi Arabia's largest trading partner in 2015, and Saudi Arabia has been China's biggest crude oil supplier and largest trading partner in the Middle East for years. Enjoying such a close relationship, China and Saudi Arabia are expected to further consolidate their relations for more mutually beneficial results.
During the Saudi king's visit to China, the two sides have discussed enhancing cooperation in areas such as culture, economy, trade, technology, security and defense. They have also signed agreements and memorandums on education, investment, transfer of technology, industry and trade.
China is ready to share its development opportunities with the world. Adopting a closed-door policy or a beggar-thy-neighbor attitude will not make anyone a winner. And China and Saudi Arabia both know that.
The author is a writer with Xinhua News Agency.