Pursuit of sustained growth to continue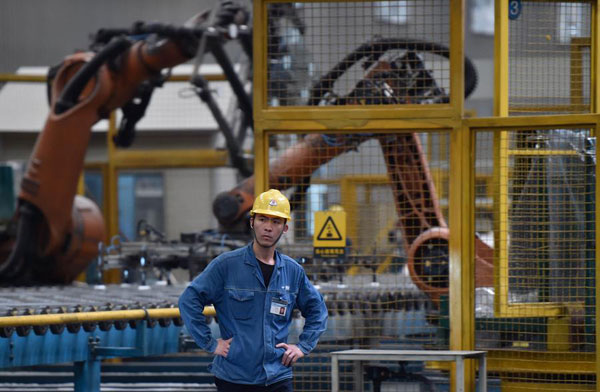 A worker checks the machine operations in Fuqing, Fujian province on Oct 25, 2016. [Photo/Xinhua]
The world needs as well as expects China to maintain stable growth. And nothing will interrupt China's pursuit of sustained growth. During the just-concluded annual sessions of the country's top legislature and top political advisory body, Chinese leaders reassured the world that China is capable of maintaining a medium-high growth for a long time to come.
Ever since the global financial crisis caused chaos in the world economy, China has been the main source of global economic growth. It remained so last year, contributing 33.2 percent of the world's economic growth, and that trend seems set to continue.
The official figures for areas such as industrial production and private sector investment for January-February suggest sustained momentum in the Chinese economy. Increasing corporate profits, better than expected employment situation and booming foreign trade in the first two months of the year also indicate steady growth. Global factors that support the trend include rebounding longer-term interest rates, stabilizing commodity prices, the manufacturing sector's sustained recovery and improvement of emerging economies.
The International Monetary Fund has raised its estimates for 2017 and 2018 for the global economy as well as major developed and emerging economies. China's 2017 growth target of about 6.5 percent-or higher-has placed its economy within a proper range of growth with enough room for reform.
It's noteworthy that the top leadership has told national lawmakers that China will open up to the outside world like never before. The welcome government attitude toward foreign investment and the gradual but certain far-reaching opening-up of the Chinese market will make it easier for the country to achieve the goal.
More critical economic areas such as national science and technology projects are open to global investors, and many free trade zones have been established. Under the "Made in China 2025" initiative, a plan to modernize the manufacturing sector, foreign companies will get the same treatment and enjoy the same preferential policies as domestic enterprises.
The government's consistent policy stance has already had a real impact on the economy. China registered its first monthly trade deficit in three years, as the increase in imports was higher than expected. And the inflow of foreign direct investment increased in February, compared with a decline in January.
Chinese entrepreneurs are also becoming more open and innovative. Data from the European Patent Office show 7,150 patent applications were submitted by Chinese enterprises last year, up nearly 25 percent from 2015.
In a recent ranking of the "Best Countries in 2017" by U.S. News & World Report, China was second on the list of Best Countries to Start a Business. "Growth in China has been a sustained" and powerful engine for global economic stability and expansion. And China has its feet firmly on the ground and will continue to help shape the future world economy.
--Xinhua News Agency