Regional integration more useful than TPP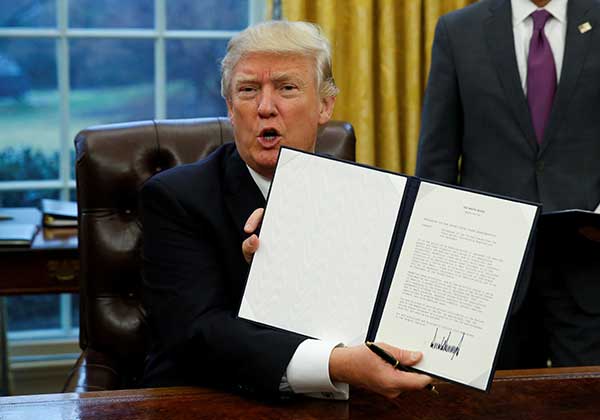 US President Donald Trump holds up his executive order on withdrawing from the Trans-Pacific Partnership after signing it in the Oval Office of the White House in Washington, DC, on Monday.[Photo/Agencies]
Speculations over China possibly joining the Trans-Pacific Partnership agreement, which the United States withdrew from in January, have finally been laid to rest. On China's role in free trade following the US' exit from the TPP, Premier Li Keqiang said at a news conference on Wednesday that China is committed to promoting free trade through regional economic frameworks.
The explanation follows the Foreign Ministry statement making it clear China will not change its stance on the TPP.
A delegation led by China's Special Representative on Latin American Affairs Yin Hengmin attended a two-day economic dialogue in Chile. Confirming Yin's participation in the talks, Foreign Ministry Spokeswoman Hua Chunying said on Monday that the meeting, which ended on Wednesday, was not only about the TPP, as wrongly reported by some media outlets, but also about "extensively comparing notes on future cooperation across the Asia-Pacific region". She also said China's stance on the TPP, which is to "work with all parties concerned to push for Asia-Pacific economic integration", has not changed.
Representatives from the TPP signatories and members of the Pacific Alliance-as well as China and the Republic of Korea, were invited to the talks in Chile. Since the remaining TPP members are struggling to save the agreement following Washington's withdrawal, speculations were rife whether it is time for Beijing to "fill the void".
China has every reason to adhere to its "open but cautious" approach to the TPP, because TPP members are divided on the possible involvement of China in the transnational deal. While Australia and Latin American states like Chile have hinted China is welcome to join the TPP, Japan is not as keen.
Canberra's enthusiasm reflects its desire to expand its overseas markets and restart the TPP engines without Washington. And although some Latin American countries are keen on forging closer economic ties with China, they could still put some pressure on US President Donald Trump to consider reassuming the TPP leadership.
China is right in weighing any invitation to join the TPP with utmost caution also because the motivation is not compelling and potential gains not clear. There are only three TPP signatories that are yet to sign a free trade agreement with China-Japan, Mexico and Canada-and China is making efforts to ink such a deal with them.
Beijing, Tokyo and Seoul wrapped up the 11th round of talks on a trilateral free trade agreement in January, while China and Canada are negotiating a bilateral FTA. Given the many FTAs China has signed, or is negotiating, with other countries, the TPP membership appears less appealing to it.
China is now offering public goods to the international community and further opening up its domestic market to foreign investment. The Belt and Road Initiative (the Silk Road Economic Belt and 21st Century Maritime Silk Road) is a case in point and the emergence of pilot free trade zones in China is another.
Besides, the TPP clauses and regulations are not ideal for China's participation; they are not likely to be rewritten in China's favor either. And Beijing is more interested in expediting the economic integration of the Asia-Pacific, which will be beneficial to all, through the Regional Comprehensive Economic Partnership that concluded its 17th round of negotiations in Kobe, Japan, earlier this month, and the Bilateral Investment Treaty negotiations with the US.
China should now make extra efforts to ensure the World Trade Organization functions properly and its rules are obeyed by all member states. The WTO is arguably the best available platform for Beijing and Washington to address their economic issues, and to keep unilateralism and trade protectionism at bay. As the world's second-largest economy, China should do more to seek wider cooperation in trade and services, and better protect intellectual property rights and the environment with the help of other WTO members.
The author is a senior research fellow at the National Institute of International Strategy, Chinese Academy of Social Sciences. The article is an excerpt from his interview with China Daily's Cui Shoufeng.