Beijing-Riyadh ties will reach new heights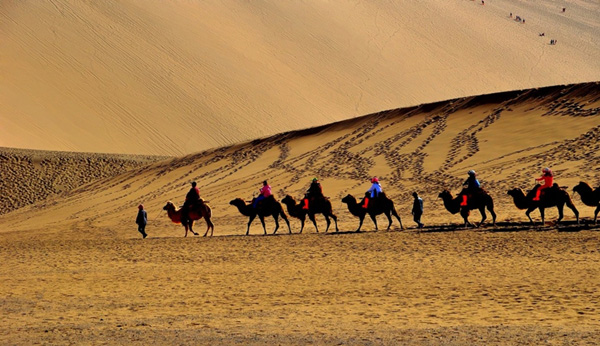 Tourists ride camels on the Mingsha Sand Dunes during a visit to Crescent Moon Spring on the outskirts of Dunhuang county of northwest China's Gansu province. [Photo/China Daily]
King Salman bin Abdulaziz Al Saud of the Kingdom of Saudi Arabia will pay a state visit to China from March 15 to 18.
Why is this visit so important? It is necessary to indicate that the timing of the visit of King Salman to Beijing constitutes the most important output for both sides.
The visit follows the swearing-in of United States President Donald Trump and the establishment of a new US administration with trends different from those prevailing in Washington for a long time, notably in handling international issues. China and Saudi Arabia decided to cooperate directly in serving their common interests and meeting their mutual needs. Consequently, the opportunity has been made available for further cooperation and joint action. The upcoming period is expected to witness more significant cooperation and deeper partnership between Riyadh and Beijing.
Another reason for the importance of the visit is the state of certainty with respect to the strategic crossways between the two sides. Such strategic interaction may serve as a starting point for bolstering relations between Riyadh and Beijing.
The diversity of Saudi Arabia's future economic landscape may render the partnership between the two countries more viable and more sustainable. Riyadh does not want to build an oil-focused relationship with China. Rather, it wishes to see Beijing as a partner at multiple levels, including nuclear energy, technology and military industries. Oil may no longer continue to constitute the core of Saudi-Chinese economic relationship in view of the drop in its prices and also as Russia became the top oil supplier for China in 2016, thereby exceeding Saudi Arabia's supply.
The third point pertains to the security cooperation being extended from cooperation in counter-terrorism to cooperation in the field of defence. Beside the conclusion of an agreement for setting up a mechanism for consultation on issues related to counter-terrorism, the Saudi and Chinese special armed forces also held a joint exercise called "Exploration 2016" in Chengdu, Southwest China's Sichuan province, last year.
Furthermore, Beijing voiced the desire to bolster its military ties with Saudi Arabia and take them to higher levels. The desire was expressed by the Chinese defence minister who appeared last September joining hands with Prince Mohammed bin Salman in a gesture of cohesion between the two sides.
Challenges may appear but they may be overcome by both sides' desire to take their relations to a level more appropriate with the international situations. The two countries are capable of making such a shift by means of an unprecedented cultural openness between them. They are both qualified for such a role because they belong to the East with its embodied values and common principles. It is true that each country has its own unique characteristics but such particularity shall in no way create a state of alienation.
At the Davos conference in January, President Xi Jinping called for taking advantage of economic globalization/globalized economy.
The opportunity for China is to make the Belt and Road Initiative (the Silk Road Economic Belt and 21st Century Maritime Silk Road) the icon for globalized interaction among peoples and move forward toward open-mindedness.
Saudi Arabia has announced its ambitious "Vision 2030" plan, which aims to reduce the Saudi economy's dependence on oil. In this regard, the Belt and Road Initiative can be highly complementary to Vision 2030, especially because 2030 is the year, according to World Bank data, when China will lead the global economy.
The author is a former editorial writer at Alriyadh Newspaper.