Cap star paychecks to foster quality films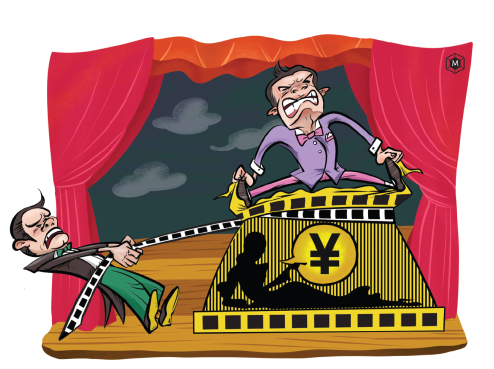 MA XUEJING/CHINA DAILY
The fat paychecks celebrities get for acting in movies and TV series have grabbed headlines during this year's annual sessions of the National People's Congress, China's top legislature, and Chinese People's Political Consultative Conference National Committee, the country's top political advisory body.
Lei Xianhe, a political advisor and senior film director from Changchun, Northeast China's Jilin province, said the money stars get usually account for more than 50 percent of the total production cost of a film.
"Last year alone, the incomes of China's top and second-level actors increased 2.5 times", said Wang Leiqing, head of TV drama and film productions in Shanghai Media Group. "For certain films, their remunerations exceed 75 percent of the total cost."
The rising incomes of stars have sparked fierce discussions among the public. A recent media survey shows more than 90 percent of the respondents believe the celebrities' paychecks are too high.
Some believe it is unfair that movie and TV stars get such huge amounts of money for the work they do, as many people who make greater contributions to the country's development than the celebrities don't get the salaries and public attention they so richly deserve.
True, movie stars have the right to make more money than ordinary people because of their box office value, but at least their paychecks should be within limits.
To curb the abnormally high payments, we have to identify the causes first. Speculation by certain investors is a primary cause. The prospering film industry has attracted many companies that believe movies are only about the stars. They compete to get big stars in their productions to cash in on their fame and, in the process, entice more investors to buy their shares and push the share prices up. Even if a company knows stars are not worth the money they are paid, it continues using them as a tool for speculation, in order to make profits.
Some celebrities' business agents also play a role in the speculation. Instead of helping the celebrities to act in meaningful productions that convey strong social messages, they cooperate with the film companies and financiers to indulge in speculation to make the largest profits in the shortest time possible.
In other words, everybody makes, or tries to make, quick money, which comes at the cost of the quality of a film. Few new Chinese actors can gain global recognition and respect, and hardly do we see a Chinese film being appreciated by international audiences.
It is time this phenomenon ended. To begin with, the film authorities can set a temporary cap on celebrities' paychecks. And in the long run, the movie industry should be more strictly regulated to prevent film companies and financiers from speculating on celebrities to make huge profits.
The author is a writer with China Daily.
zhangzhouxiang@chinadaily.com.cn