Tackling the heavy air pollution problem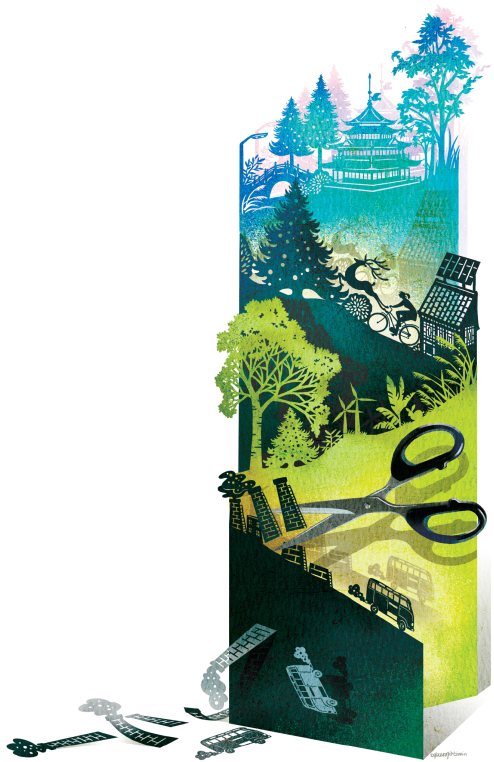 LI MIN/CHINA DAILY
Editor's note: With the environment being one of most important issues on the agenda at the ongoing annual sessions of the National People's Congress, China's top legislature, and the Chinese People's Political Consultative Conference National Committee, the country's top political advisory body, Hu Jingnan and Cai Fahe from the Chinese Research Academy of Environmental Sciences, and Gong Zhengyu from the China National Environmental Monitoring Center, present their views on how to control air pollution.
Adopt different approaches
Cai Fahe:
Increasing intensity of toxic emissions is the intrinsic cause of air pollution in China, while meteorological conditions, such as light wind or the lack of wind, high humidity and temperature inversion, are the major external causes.
The biggest cause of air pollution in China is PM2.5 (particulate matters with a diameter of 2.5 micrometers or less that are harmful for humans). These particulates mainly come from direct emissions of primary fine particles and indirect emissions of sulfur dioxide, nitrogen oxide, volatile organic compounds and ammonia.
The Ministry of Environmental Protection's study covering 35 major cities across China after January 2014 shows that coal burning, motor vehicles, drifting dust and the manufacturing and construction sectors are the main sources of PM2.5, with the share of their contribution to air pollution being different in different cities. For example, coal burning contributes more than 25 percent of PM2.5 in Shijiazhuang, North China's Hebei province, as well as Jinan, Taiyuan, Changchun, Harbin, Nanjing, Guiyang and Urumqi, while car emissions account for more than 30 percent of PM2.5 in metropolises such as Beijing, Shanghai and Shenzhen.
Therefore, different approaches should be adopted to control air pollution in different cities. In northern Chinese cities that burn huge amounts of coal to provide central heating to residents in winter, the most effective way of controlling air pollution is to reduce the consumption of coal in winter and, instead, use eco-friendly fuels. But in metropolises where the number of cars increases with each passing day, the top priority is to curb emissions from cars by reducing the number of vehicles, especially that spew excessive pollutants, on the road.
The ministry's study also shows that the generally unfavorable meteorological conditions in North China, such as in the Beijing-Tianjin-Hebei region, have made it more difficult to reduce air pollution. For example, last winter, inactive or weak cold currents, light wind and relatively high temperatures hampered atmospheric diffusion to a large extent and thus aggravated air pollution.