Question of the day
Editor's note: During the two sessions, China Daily has collected questions foreign netizens care most about and solicited answers from experts, CPPCC National Committee members and NPC deputies.
As China's economy slows and undergoes structural upgrading, do you think it will affect the country's foreign trade?
Even though China's economic growth is slowing down due to many factors, such as overcapacity and rising trade protectionism from its trade partners, the country is still one of the world's major consumption markets and it is still attractive for global companies to further diversify their sales channels and product categories here. China's foreign trade will remain stable in 2017 as markets, such as the United States, recover fast. Tangible results from the development of the Belt and Road Initiative will also offer new trade momentum to both international and Chinese companies this year. Many of these opportunities will arise from surging demand for public services, manufacturing and infrastructure projects in the countries and regions along the routes of the initiative.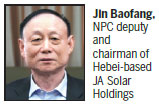 (China Daily 03/08/2017 page6)