Q&A: Will foreign employees enjoy the social security rights in China?
With the increase in job opportunities and improvement of environment in China, more and more foreigners around me choose to settle down in China. Currently, foreign employees only pay an income tax. Will foreign employees pay the insurance contribution and enjoy the same social security rights as their Chinese counterparts do?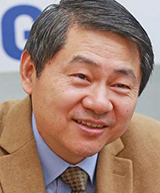 File photo of Wang Huiyao, president of the Center for China and Globalization, China's largest independent think tank. [Zou Hong/China Daily]
The social security in China is far below the international levels. Many foreigners come to China and pay social security, but if they leave China, they can neither enjoy the benefits nor withdraw all their pension. In some cases, they can get the pension funds they have been contributing every month, but not the part covered by the government and employers.
China should make clear regulations on the application services, payment standards, security content and transitional pension upon departure for foreign employees, speed up the mechanism of signing social insurance agreements with other countries and establish a flexible social security payment ratio.
At present, South Korea and Germany have signed bilateral social insurance agreements with China. And the list of agreements needs to be extended to more countries.
Meanwhile, with reference to the provisions of other countries in the world, China should relax the requirements for overseas talents to receiving social security payments. If they pay insurance for a certain length of time and return to their native countries before retirement age, they should be allowed to withdraw all the money from the pension, instead of just their own pension contributions.