Xi lights up path ahead for better global governance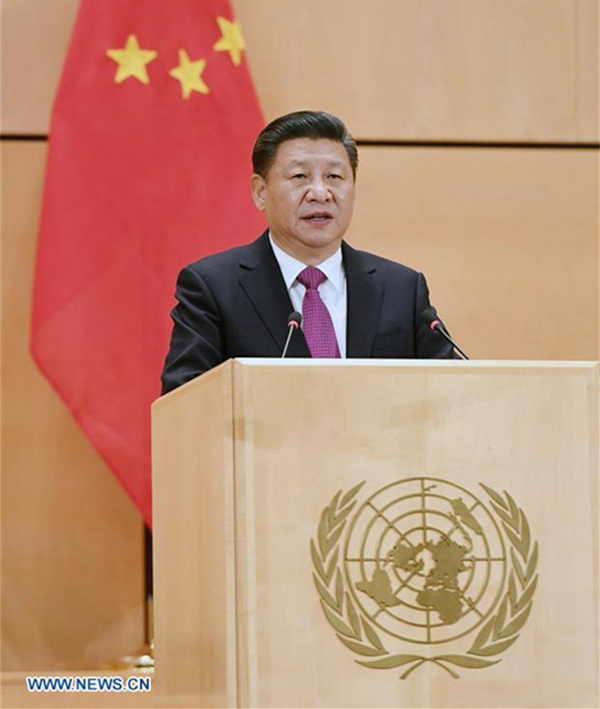 Chinese President Xi Jinping delivers a keynote speech at the United Nations Office in Geneva, Switzerland, Jan 18, 2017. [Photo/Xinhua]
President Xi Jinping attended the World Economic Forum in Davos with a delegation of business elites, scholars and officials last Tuesday. They made their own contributions while eagerly hearing speakers at an event on how to brighten the world's gloomy prospects.
Xi, the first top leader from China at the forum, delivered a highly anticipated keynote speech in which he highlighted the three key challenges that need to be addressed to revive the sluggish global economy, namely its lack of a driving force for growth, ineffective global economic governance, and imbalanced development.
He prescribed innovation, win-win cooperation and governance reform as the remedies.
Xi's dedication to innovation, reform and cooperation, is earnest and constant. As well as in his Davos speech, they have occupied important positions in many of his speeches on the international economy, such as at the APEC Summit in Beijing in late 2014 and the G20 Summit in Hangzhou, Zhejiang province, in September last year.
Xi's speech in Davos was also of great symbolic significance, representing, as it did, not only the rise of China, but also the awakening of the developing countries as a whole in pursuit of a fairer global order. That they are the major contributors to global economic growth has not changed their underdog status in the current global order. The incompatibility between their contributions and their right to say distorts the world economic order, which also harms many developed countries' interests.
To some extent, Xi said something that many believe should have been said and acted earlier, but wasn't.
Under Xi's down-to-earth leadership, China has weathered many unpredictable challenges since he first took over the helm of state five years ago, and it has initiated many reforms, aimed not only at invigorating its economy, but also its governing system.
Xi's confidence that China can weather the storms has also ensured stability in China's society, economy and politics during a difficult transition period.
And over the past five years, since he first proposed the concept of the Chinese Dream, Xi has shown he has the ability and determination to make it come true for the whole nation.
He himself attributes the country's success to the bravery and perseverance of the Chinese people. China has learned how to swim by swimming in dangerous swirls and waves, as Xi said in his speech.
And although China's rise has been accompanied by criticism and suspicion, the Belt and Road Initiative, which Xi proposed in 2013 to foster connectivity and cooperation, has been transformed from words to deeds over the last three years, and it now has the support of more than 100 countries. No one can still doubt China's executive desire and efficiency to secure international cooperation.
China has also promoted the consensus on solving problems in international trade and investment, and taken the lead in laying a solid foundation by designing working mechanisms to translate the consensuses into joint actions at the G20 Summit in Hangzhou.
Xi's speech in Davos sent a rest-assured message to the world that China is a reliable partner and a responsible member of the international community.
Amid the uncertainty caused by a series of Black Swan events, the world has eagerly sought a trustworthy leadership to restore a sense of order.
Though no means is a panacea for all the world's problems, Xi's speech, right before the inauguration of the US President Donald Trump, showed he is the right person, in the right place, at the right time.
The author is a writer with China Daily.
liyang@chinadaily.com.cn