From land of the pyramids to Great Wall of China: Happy New Year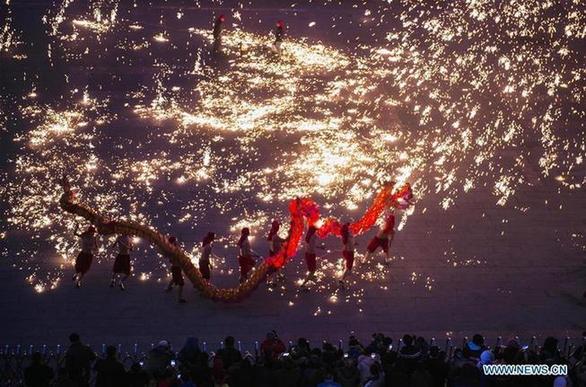 People perform fire dragon dance amid sparkles to greet the upcoming Spring Festival in Tai'erzhuang ancient town of Zaozhuang City, East China's Shandong province, Jan 21, 2017. The Spring Festival, or Chinese Lunar New Year, falls on Jan 28 this year. [Photo/Xinhua]
For many years, I celebrated the Chinese New Year with my fellow Chinese. However, in the past couple of years, I was lucky to add global flavor to the festivities.
Last year, I had the chance to share the joys of the Spring Festival with my Canadian compatriots. To celebrate the event, my friends and I satisfied our taste buds with a blend of sumptuous Chinese and Canadian dishes while toasting the New Year with both Chinese and Canadian drinks.
This year, I'm spending the Chinese New Year in the land of the pyramids with members of my Egyptian family and friends. Fortunately, the Chinese and the Egyptian governments just wrapped up the Chinese-Egyptian cultural year.
The celebration attracted a lot of coverage in the Egyptian media. That in turn has spurred interest in China in general and in Spring Festival in particular.
My family and friends are flooding me with questions regarding customs and traditions associated with the Chinese New Year. They want to know the name of the Chinese dishes served at the family reunion and the greetings exchanged.
They are going out of their way to create a Chinese atmosphere so that I feel "at home" during the Chinese New Year. Plus, they are keenly seeking my suggestions to make the event authentic.
I have told them that having a picnic in the shadows of the great pyramids fits the occasion perfectly since it would give us a chance to reflect on the kinship between the two glorious civilizations.
As my Chinese cooking skills leave a lot to be desired, I, reluctantly, volunteered to prepare a Chinese dinner for them if they were willing to risk eating it.
Of course, I emphasized that the Chinese dishes are delicious when they are prepared by an expert chef. By no means, I can bestow that honor upon myself.
The children in my family were excited when they heard that they will receive a monetary gift from me on the day of the Chinese New Year. They are eagerly anticipating the arrival of the day. Though they were not that happy when they learned about the responsibility that comes with the gift.
To be frank, I feel sad leaving my beloved China during this special time of the year. However, watching the efforts of my family and friends to enthusiastically share the celebration have eased the pain. For that, I shall be eternally grateful to them.
Finally, from the land of the pyramids to the land of the Great Wall, on behalf of all Egyptians, I wish to extend our best wishes of a very happy Chinese New Year "xinniankuaile" to my fellow Chinese.
May the Chinese New Year grant them the opportunity to enjoy the benefits of excellent health, to rejoice in the fulfillment of achieving exceptional success and to experience the magical wonders of ultimate happiness. As for my beloved China, I wish that the New Year brings it peace, prosperity and good fortune.