Key reforms to help unleash growth potential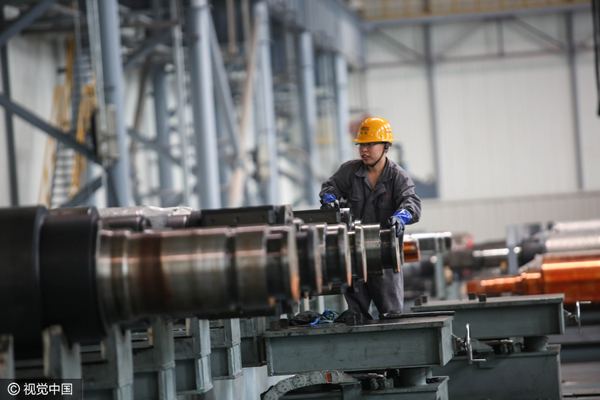 A worker at a steel plant in Tangshan, North China's Hebei provine. [Photo/VCG]
China's economy grew 6.7 percent year-on-year in 2016, its slowest growth in 26 years. Yet still within the government's target range set for the year, official data showed Friday.
As to the economy this year, the tone-setting Central Economic Work Conference in mid-December gave priority for the year to the pursuit of economic advancement while maintaining stability.
That means that maintaining economic growth will still be top of China's economic agenda for 2017. Some may argue that since China's economy has remained on an upward trajectory, its previous relatively loose monetary and proactive fiscal policies should be brought to an end. However, China's economy is still slowing and a certain scale of monetary oversupply and fiscal inputs are necessary to maintain the required level of economic growth in 2017. The only quantitative economic target for the 13th Five-Year Plan (2016-20) period is to double the country's per capita disposable income by 2020 from the 2010 level. For that goal to be attained the average economic growth rate must be no less than 6.5 percent during the five-year period.
Despite the efforts that need to be made to maintain the required level of economic growth in 2017, China also has to advance its industrial structural adjustments. As President Xi Jinping said at the Central Economic Work Conference in December, one does not take precedence over the other, they are of equal importance. Thus, the country has to find breakthrough areas if both tasks are to be done well.
To this end, the government should subsidize people's livelihoods, such as advancing real estate destocking in the third- and fourth-tier cities, one of the key tasks listed at the Central Economic Work Conference for 2017. To achieve this, the government should no longer confine its real estate destocking to calls for rural residents to buy housing in cities while stopping short of targeted measures to encourage them to do so. Apartments in these cities are mainly priced at 3,000 yuan ($347) to 4,000 yuan per square meter, and if a subsidy of 1,000 yuan per sq m is offered to homebuyers, that may spur rural residents to buy houses in cities for relocation. There is a huge demand to be tapped. Many young migrant workers work in cities but live in their rural hometowns because they cannot afford to buy a home in the city where they work. Most of them would choose to relocate to a city if they had the purchasing power to buy a home and ensure their children have access to education.
If the potential urban homebuying demand of rural residents is fully released, the country's huge housing stock will decline quickly and developers will consequently get money to pay off the debts they owe banks, which will in return mitigate the pressure of bad debts on banks. The 700 billion yuan of subsidies for the current total unsold housing area of 700 million sq m is affordable for the country, and it would not only help to improve people's livelihoods but also facilitate the country's structural adjustment and maintain its economic growth.
The country should also take advantage of its structural adjustments to advance reform of State-owned enterprises, such as via debt-to-equity swaps. The State Council, China's Cabinet, has formulated a guideline document aimed at promoting such swaps, as this is a necessary step toward reforming SOEs, given that as a whole they now have a 66 percent debt ratio and their economic means and corporate governance structure have crippled their flexibility and economic vitality. At the same time, the confirmation of mixed ownership as the reform direction for SOEs at the most recent Central Economic Work Conference also offers an opportunity for such kind of reforms to be advanced. The entry of private capital into SOEs and their participation in the management of SOEs would improve the efficiency of these enterprises by changing their governance structure, enhancing their operations and promoting better use of their powerful technologies and manpower.
With such kind of reforms and efforts, China's economic growth in 2017 is expected to outperform that of 2016.
The author is the director of the China Center for Economic Research and dean of the National School of Development at Peking University.