China can take free trade baton from US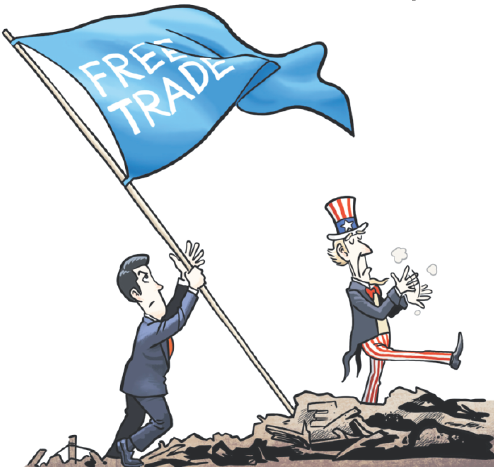 LUO JIE/CHINA DAILY
That President Xi Jinping's attendance at the World Economic Forum in Davos, the first by China's head of state, has drawn worldwide attention testifies to the sharp rise in China's international status and its growing voice in international affairs.
With concrete words and actions, China has transitioned from being a beneficiary and participant of free trade and globalization to a maker and guider of global governance and the global economic rules. By successfully handling its domestic affairs to ensure its stable and healthy economic and social development, China has set a good example for international governance.
Due to its industrialization and export-oriented economic development strategy, China has risen to be the world's largest manufacturer and exporter. It has also become the economy with fastest growing volume of imports since the start of this century with its import growth nearly double the world average. And the large volumes of goods and services China imports and its growing outward direct investment have bolstered the economic and social development of a number of countries and regions.
From Southeast Asian nations, Brazil, Angola, Sudan and other emerging economies to resources-rich countries such as Australia and Canada and to the Republic of Korea, Japan, European countries and the United States, more and more countries have increasingly benefited from China's ever-expanding demand for imports. From a broader and longer perspective, that East Asia has managed to begin real and full industrialization and realize an economic and social takeoff is due to China's stable development. East Asia is now widely recognized as the most vigorous region in the world.
If calculated according to the 2010 constant price of the US dollar, China's economic growth annually contributed 30.5 percent to world economic growth during the 12th Five-Year Plan (2011-15) period, meaning it was the biggest contributor. The United States contributed 17.8 percent and the eurozone 4.4 percent. China's contribution ratio would be as high as 41.3 percent if based on the 2015 dollar price, while the ratio would be 16.3 percent for the US and 1.4 percent for Japan. At a time when the world economy still faces dim prospects and the huge fiscal and tax policy changes made by major Western countries are having enormous repercussions, the sustainable, stable and healthy development of China's economy by itself is lubricating the development of the world economy.
As a leading emerging economy, China should adhere to free trade rules as its foremost responsibility for better global economic governance. The US served as a flag bearer of global liberal trade for decades after World War II, but its looming protectionism in recent years and the inward-looking inclination of President Donald Trump's team have raised possibilities for increased global trade frictions. As the world's second largest economy and a leading trading country, China should take over the baton from the US and play a leading role in advocating and promoting free trade amid the rising economic and trade uncertainties.
China is willing to undertake more responsibilities for the world governance system, but it has no intention of regarding itself as a player powerful enough to challenge the dominance of the US or promote a regime that can rival the US-led world institutions. Instead, what it is doing is the amelioration of the established world governance system. The increased disputes and trade frictions that can be expected between China and the US in 2017 will basically not change their pursuit of "unity through struggle".
Despite its efforts to play a bigger role in international affairs, China can only undertake moderately expanded, but not excessive international obligations that are commensurate to its international rights so that it can undertake and fulfill its world governance responsibilities in a sustainable manner.
The author is a researcher at the International Trade and Economic Cooperation Institute of the Ministry of Commerce.