Mainland market upgraded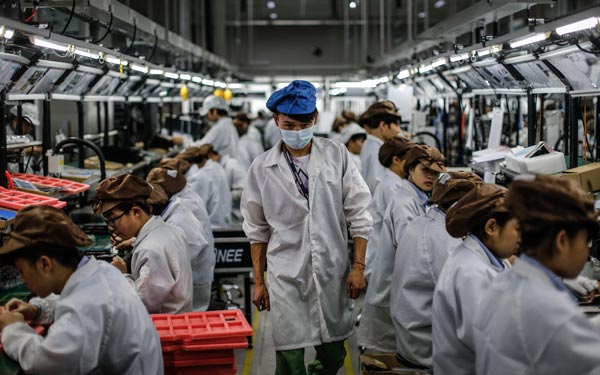 Workers at an export-oriented mobile phone parts enterprise in Dongguan, Guangdong province. [Photo/China Daily]
According to media reports, the number of Taiwan-funded enterprises in Dongguan, South China's Guangdong province, has decreased to about 2,000 from a peak of more than 5,000.
In the early 1990s, a series of preferential land and tax policies adopted by the Chinese mainland attracted a number of enterprises from the island to set up plants in Dongguan producing shoes, clothes, toys and other labor-intensive products. Aside from the preferential policies, the mainland also offered advantages in labor and land costs compared with the island's at that time. The booming development of these enterprises also contributed to the annual 20 percent economic growth of Dongguan, a win-win result for the mainland and the island.
However, two decades have passed, many Dongguan-based Taiwan enterprises have failed to keep step with the times and they are still at the labor-intensive industrial stage. With the drastic decrease in overseas orders after the 2008 global financial crisis and rising costs, these enterprises have been under growing pressure and witnessed ever-shrinking profits.
Dongguan's accelerated efforts at industrial upgrading have also resulted in it reducing or canceling its previous preferential land and tax policies for technology-lacking Taiwan enterprises.
Against this backdrop, it is unavoidable that Taiwan-funded enterprises will withdraw from Dongguan on a large scale. When Taiwan's labor-intensive enterprises began outward relocation, the island pushed for industrial upgrading, which bolstered the development of its technology-intensive service sectors and helped the island stride over the middle-income trap. However, the mainland's high-tech development which has progressed with leaps and bounds since 2000 has overshadowed that in Taiwan.
Any enterprises eying the mainland market should acknowledge that the mainland's industrial upgrading remains an inevitable trend. Only high-tech enterprises with a sharp competitiveness can expect to survive and develop in the mainland.
--Beijing News