Drivers of new real economy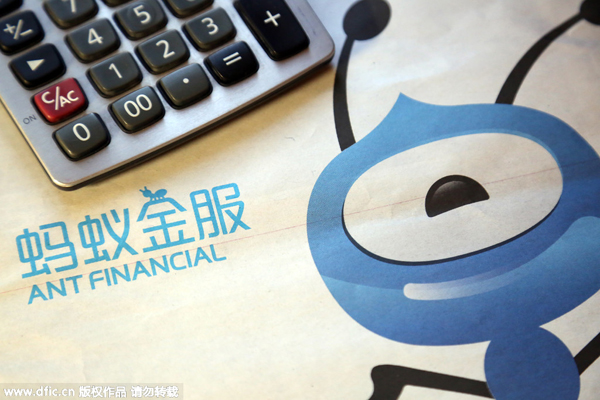 An advertisement for Ant Financial Services, an affiliate of Chinese e-commerce giant Alibaba Group, is pictured in Shanghai, October 16, 2014. [Photo/IC]
Alibaba Group and its affiliated Ant Financial contributed 23.8 billion yuan ($3.42 billion)-nearly 100 million yuan per work day-to the national coffers in 2016.
And at least 200 billion yuan in tax was also paid by other platforms driven by its business.
The nearly 100 million yuan tax paid by Alibaba alone testifies not only its own fast development, but also the robust advancement of China's new real economic sector. With such a huge tax paid to State coffers, Alibaba can really be called a big taxpayer.
Paying tax is an important indicator of an enterprise's contribution to society. The drastic increase in the amount of tax paid by China's internet enterprises fully demonstrates the huge contribution these stalwarts of its new real economy are making to the country's economic development.
For a country, there is no difference between the real economy and the virtual economy; there is only difference between the old and new economies. Any enterprise focused on old economic fields will be at the risk of going out of business if it does not adapt.
However, aside from the huge amount of tax they pay, the large number of jobs they create-the Alibaba Group has created about 30 million in estimates-and the research and development contributions they make, the new economy enterprises are also changing people's daily lives as well as China's industrial and economic structure with their entrepreneurship and spirit of innovation.
Their development also shows the direction for China's real economy. It is now difficult to imagine how people can live without WeChat, Taobao, Baidu, JD.com and Didi Chuxing, all of which offer people great convenience.
The new economy enterprises are also expected to facilitate the incorporation of more traditional enterprises in the ecosphere of the new real economy and to ultimately dominate the whole economy.--Beijing News