Limits on car-hailing not the best way out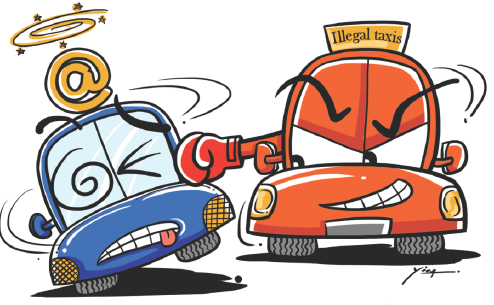 WANG XIAOYING/CHINA DAILY
Beijing and Shanghai enacted rules on car-hailing services at the end of December, keeping most of the strict requirements of the previous drafts. Drivers hired by car-hailing platforms such as Didi Chuxing are still required to have local household registration and their vehicles must have local license plates.
But some changes have been made in the rules. In Beijing, the standard for engine displacement has been lowered from 2 liters to 1.8 liters, and the wheelbase requirement is down from 270 cm to 265 cm. Drivers in the capital have been given five months to make sure they and their cars meet the requirements.
But just 10.7 percent of the Didi drivers in Beijing are permanent residents of the capital and less than 10 percent of Shanghai's ride-sharing drivers can meet the new standards, according to reports. In Beijing's case, non-local drivers are automatically disqualified from applying for the car-hailing driving tests, which all applicants have to pass to stay in or enter the business.
Shock waves are yet to be felt, but a few things are worth noting. Some ineligible drivers in Shanghai, who do not have the five-month "transition period", were caught offering car-hailing services to passengers four days after the new regulation came into effect. When asked, they said they had not been informed of the new restrictions even by the car-hailing platforms they work for.
Illegal yet legitimate-looking taxis at the Beijing Capital International Airport are another cause for concern. A recent report said that apart from picking up passengers from restricted areas and ripping them off, many unauthorized drivers pay 1,200 yuan ($173) to the taxi coordinators a month in exchange for the "luxury" of cutting the line.
This dirty business driven by power-money exchanges must be thwarted. But the new ride-sharing regulations in many Chinese cities, Beijing and Shanghai included, may force the burgeoning market into the "rule of the jungle" again.
It is estimated that more than 100,000 illegal taxis still ply the roads of Beijing and pick up passengers from train stations and airports despite years of crackdown on them. But there are only about 60,000 authorized taxis in Beijing, and some registered taxi drivers, at times, refuse to go to the airport terminals because they cannot compete with those who have paid coordinators off to receive preferential treatment. Ride-sharing cars are not allowed to even go there according to the new rules.
Given the continually growing demand for car-on-demand services and the past failures to rein in illegal taxis, the legalized car-hailing market is unlikely to shrink, raising a question mark on the implementation of the new rules. With an expected fall in the number of eligible online-hailing cars, public transport authorities and ride-sharing platforms are likely to feel the pain sooner than later.
In particular, cities such as Shanghai and Guangzhou, where the new rules came into immediate effect, may face more troubles because illegitimate drivers and enthusiastic passengers are likely to continue bypassing the restrictions.
Overcrowded mega-cities do need to keep a tighter rein on the local population. They also have good reasons to demand that car-hailing services are run by local residents for security and management concerns. But a better alternative would be industrial transformation and relocation rather than squeezing non-local drivers and cars out of the competition.
Zhu Wei is deputy director of the Communication Law Center at China University of Political Science and Law. The article is an excerpt from his interview with China Daily's Cui Shoufeng.