China to move closer to centenary goals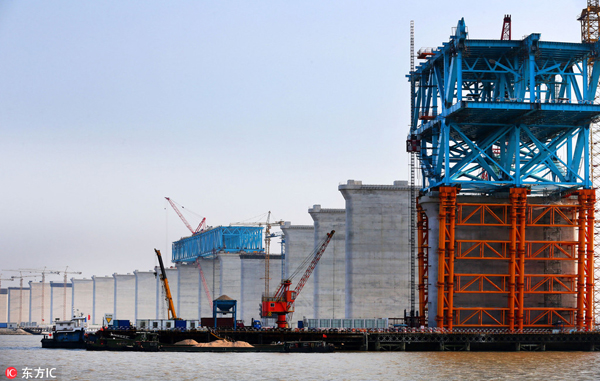 Construction on a bridge is under way in Nantong, East china's Jiangsu province, on August 1, 2016. [Photo/IC]
This year is significant in China's political calendar as the 19th Communist Party of China National Congress will convene in Beijing in the second half of this year. The whole world will be paying close attention as the 2,300 delegates, chosen by over 88 million Party members, assemble to elect a new Central Committee.
It is expected that by then there will have been further elaboration on how the Party will strictly govern itself and how it will navigate the complex external and internal environments to lead the country toward the realization of the two centenary goals: the doubling of China's GDP and per-capita income 2010 levels by 2020, and the building of a modern socialist country that is prosperous, strong, democratic, culturally advanced and harmonious by the middle of this century.
To achieve these two goals the economy needs to be rebalanced, and problems regarding reform, development and stability have to be overcome to achieve innovative, coordinated, green, open and shared development.
China's decades-long reform drive is now in the deep-water zone as the easier reforms have been accomplished and the remaining reforms are hard nuts to crack. However, the leadership of the CPC Central Committee, with Xi Jinping as the core, has demonstrated it has the will and resolve to push forward the necessary reforms.
Extensive supply-side structural reform, including reducing pollution and phasing out excess capacity, is being advanced, and State Council agencies have already canceled or delegated administrative approval for 618 items, in a bid to invigorate the economy by cutting red tape and streamlining governance.
Breakthroughs have also been made in judicial reform, fiscal and tax reform, reform of State-owned enterprises, and reform of the military, where a tiered command system including the Central Military Commission and five theater commands have been established.
The results are encouraging. Today, China is one of the world's fastest growing major economies and a top trading body. It boasts a strong military of over 2 million people and is the biggest contributor to international peacekeeping personnel among the permanent members of the UN Security Council.
Its rural population living in poverty decreased from 770 million to 55.75 million between 1978 and 2015, and another 10 million were lifted out of poverty last year. The leadership aims to lift all people out of poverty in the country by 2020.
At the same time, the Party's battle against corruption has maintained its momentum, demonstrating as Xi has said that: "All people are equal before the law and regulations, and the enforcement of such rules allow no privilege or exception."
China is also moving closer to the center of the world stage. Xi's vision and efforts toward a fairer global governance system and a new type of international relations featuring win-win cooperation, as well as his busy globetrotting-51 countries in 24 trips in about four years-have helped create an open, inclusive and responsible image for China on the international stage.
The Silk Road Economic Belt and 21st Century Maritime Silk Road proposed by Xi in 2013 are being participated in by more than 100 countries and international organizations. While China's initiative to provide funding for the needed infrastructure in the region, the Asian Infrastructure Investment Bank, has been launched with 57 members.
Xi has also set a new global agenda for peace, progress, prosperity with his proposal that all countries work together to build a community of shared destiny for all humankind.
This year will see China further build on these achievements and take further steps toward the two centenary goals.
Xinhua News Agency