Cheap Chinese solar panels are good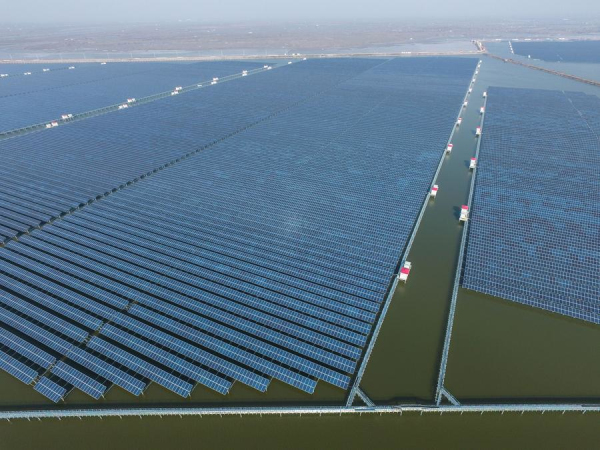 Aerial photo taken on Dec 24, 2016 shows a solar power project under construction in cixi city, East China's Zhejiang province. The project, with solar panels installed above the fishery water, is expected to generate 220 million kwh of electricity per year.[Photo/Xinhua]
A group of European Union parliamentarians have added their voices to calls from climate action groups and much of Europe's solar industry for an end to punitive tariffs on Chinese solar power equipment.
What is going on? Just as everyone else appears to be demanding higher tariffs, amid a predicted return to trade protectionism in Europe and the United States, along comes an unlikely alliance of industry, charities and politicians saying get rid of them.
A letter signed in December by 22 members of the European Parliament, including the vice-chairs of the energy and international trade committees, helps to explain.
In an appeal to the European Commission to scrap "harmful" duties, they said existing trade measures against China were stifling competition and damaging Europe's own energy sector.
It looks as if this and other appeals may fail to sway the Commission, the European Union's executive arm. The trade press in December quoted documents suggesting it would recommend keeping import duties and a minimum price for solar panels for two more years.
A final decision has to come by March but interested parties have until Jan 6 to respond before the Commission makes a formal proposal to the EU's 28 governments.
In the present climate of protectionism emerging in Europe, it may turn out that the 28 would prefer not to court headlines about cutting tariffs on China and will go along with the commission.
However, the MEPs who signed the letter argued that many European jobs depended on the solar sector and existing duties did not take into account Europe's green energy targets. In short, cheap Chinese solar energy components are good for business and good for the climate.
They were echoing arguments put forward by action groups, including Greenpeace and the World Wildlife Fund, urging the commission in October to remove trade barriers on solar panels.
The charities said solar power is one of the key technologies Europe needs to reduce its reliance on fossil fuels and to meet its obligations under the recent Paris climate agreement.
"We are therefore concerned that the current tariffs on imported solar panels are making solar power more expensive and slowing down the deployment of solar power in Europe," they told EC Trade Commissioner Cecilia Malmstrom.
"Instead of putting citizens at the heart of the Energy Union, the present trade measures negatively impact consumers and make their participation in the energy transition costlier," the charities said.
These appeals have in turn been echoed by 400 European solar energy companies, which demanded the EU immediately scrap a minimum import price (MIP) agreement that establishes a floor for Chinese solar modules. They said the arrangement was harming the growth of an important industry across the European continent.
In fact the MIP deal, originally introduced to avert a trade war, is already almost defunct, since all the major Chinese producers pulled out of it. One company, JA Solar, explained that the actual price of modules in the EU was already well below the agreed minimum rate and falling, damaging its ability to stay competitive in Europe.
The EU imposed anti-dumping and anti-subsidy duties on imported Chinese solar components of 51.5 percent and 5 percent respectively at the end of 2013. Chinese companies got around the barriers, and similar measures in the US, by setting up production elsewhere in Asia.
EU tariffs aside, the most novel prediction about the solar sector in the coming year comes from Sven Lindstroem, CEO of solar tech company Midsummer. In a syndicated New Year look ahead to 2017, he claims that "President Trump will turn green".
Although Donald Trump's election, and some of his subsequent appointments, have been heralded as a victory for the oil and coal industries, Lindstroem notes that renewable energy is the most efficient way to make the US independent and self-sufficient.
"US citizens like independence, and so does President-elect Trump," he writes.
According to Lindstroem, many American families already use oil-fired generators to produce their own electricity, and the growth of solar power would encourage many more to go off-grid.
"The ... revolution has just started," he writes, "and it will take more than a policy shift to stop it."
The writer is a senior editorial consultant for China Daily UK.