No supervision blind spots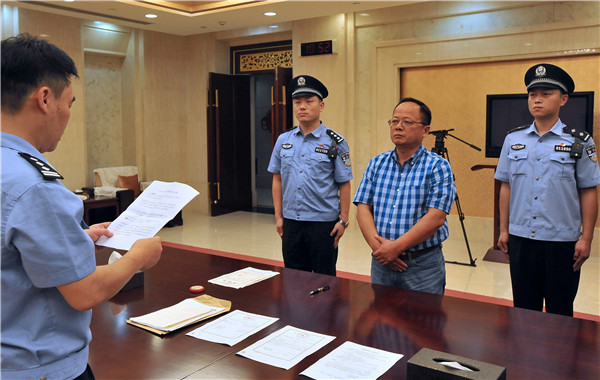 Zhu Haiping, former financial official with the civil aviation authority of Hubei province and a fraud suspect, surrenders at Wuhan's Tianhe International Airport in July last year. [Photo/Xinhua]
Many corrupt officials have confessed that it is the lack of effective supervision that made them fearless in their pursuit of illegal gains. A new reform aims to create a supervisory environment that means civil servants no longer have the space to develop such audacity.
The reform plan stresses that all State organs will be under supervision, including the legislature, judiciary, and industrial organizations with government background, which used to be "marginal areas". Statistics indicate these organizations contributed up to 45 percent of non-government employee graft cases last year.
Beijing and Shanxi and Zhejiang provinces are to pilot the reform whose aim is to establish a system in which intra-Party supervision and supervision of executive power support each other.
In the current system, the discipline inspection commissions mainly take charge of Party management while supervisory departments are generally responsible for administrative supervision and law-based administration.
The reform, if carried out, will better supervise both the executive and judicial branches of government.
The plan aims to go deep into the power operation mechanisms of the Party and the government. It is the first time that the supervisory organs are parallel to the people's congress, the legislature, and the government. The new reforms will establish supervisory commissions at various levels.
The role of the commissions is to investigate allegations of wrongdoing and dereliction of duty. They will also be given the responsibility of prosecuting those found guilty of such violations.
Anti-corruption experience shows that the lack of effective supervision and control means corruption has not yet been fully curbed. In order to achieve a permanent cure, it is necessary to carry out a top-level design for more effective supervision. Effective supervision means there should be no blind spots.