Can Abe be trusted?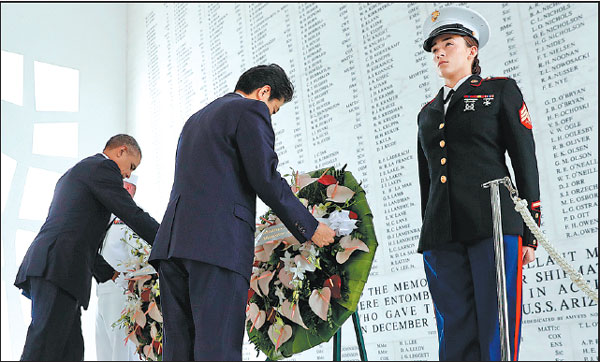 US President Barack Obama and Japanese Prime Minister Shinzo Abe lay wreaths at the USS Arizona Memorial in Hawaii on December 27, 2016. [Agencies]
Japanese Prime Minister Shinzo Abe visited Pearl Harbor to lay a wreath and the Japanese made it very clear that he was not there to apologize for the attack on the US in 1941. Actually, he does not need to apologize as the Americans believe the Japanese are honorable warriors living by the samurai code of honor, not sneaky attacks. This is what the Japanese Chief Cabinet Secretary Yoshida Suga said, "The visit to Pearl Harbor was to console the souls of the war dead, not to apologize".
What was the purpose of the visit to Hawaii, where they attacked with all their might and killed so many Americans, if Abe refused to apologize? Was to claim that Japan did nothing wrong, that there's nothing to apologize for? OK, got the message.
"We must never repeat the horrors of war again. This is the solemn vow we, the people of Japan, have taken," said Abe. No more wars, no more atrocities! Then why did Abe and his cabinet tore away the pacifist Constitution that forbade Japan to go to war unless attacked? Why is Japan so eager to engage in wars abroad, to support wars overseas, including fighting alongside the US?
Hard to believe someone talking about peace and no war when the same person not only tore away the pacifist Constitution, but also remilitarizes his armed forces with bigger defense budget and happily sends the soldiers to theaters of war all over the world.
Is Abe a liar or an honorable man who can be trusted not to conduct wars? The refusal to apologize to the victims of the sneaky attack on Pearl Harbor speaks volumes about what is inside Abe's head and what he stands for. He does not see it necessary to visit the war memorials of all the countries that Japan invaded during the Japanese invasion of Asia and Southeast Asia except Pearl Harbor, all because US President Barack Obama had to visit the memorial site in Hiroshima first. Abe has never visited the memorial sites in Koreas and China, two countries that suffered the most from the invading Japanese Imperial army. But he has on many occasions visited the Yasukuni Shrine that honors the war criminals of Japan.
What does all this say of Abe and of the Japanese people? Can anyone trust Abe and his gang not to start war again?
The author is a political observer from Singapore.
The opinions expressed here are those of the writer and don't represent views of China Daily website.