Be realistic about film sector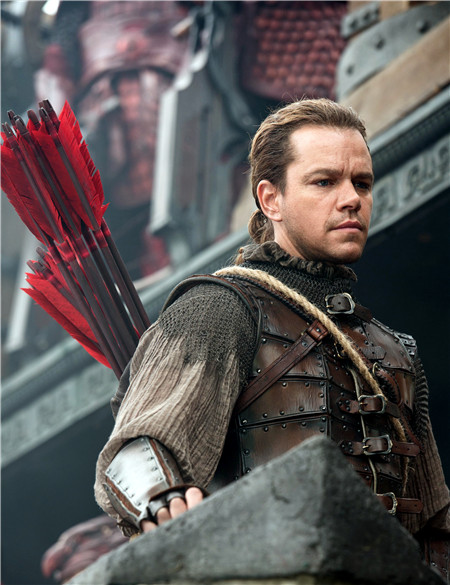 Zhang Yimou's new film The Great Wall stars Matt Damon. [Photo provided to China Daily]
As of Dec 19, the box office revenue on the Chinese mainland totaled 43.7 billion yuan ($6.33 billion). Although the annual figure will almost certainly exceed last year's 44.1 billion yuan, it is much lower than the industry's 60-billion-yuan prediction at the beginning of this year.
The box office revenue on the Chinese mainland has rocketed for five consecutive years, with an average annual rise of more than 40 percent. That's what led to the prediction that it would reach 60 billion yuan this year. But anticipating that the dramatic increase in the past would continue into the future was only a wishful thinking.
The boom was partly caused by government subsidies, and its encouraging of investment in the film industry. This attracted a considerable amount of hot money and speculation in search of profits, creating a box revenue bubble.
Growth of this kind is not only unsustainable, but also harmful to the healthy development of the industry.
It is a golden time for the mainland's film industry. It has the world's largest market with audiences hungry for good movies, advanced technology and equipment, ample investment and innumerable opportunities to learn from its foreign counterparts, as well as many good stories to tell in such a fast developing country with such a long history.
It was only a matter of time before the artificially overheated market began to cool. Although nobody doubts that the Chinese mainland will have the largest box revenue in the world one day, the potential of the Chinese market should not be exaggerated.
The arrival of that day will only be delayed if the film industry does not produce enough good films. The quality of Chinese films needs to be better and the industry should concentrate on telling good stories with inventive use of the language of films.--The paper.cn