Sign of resolve for reform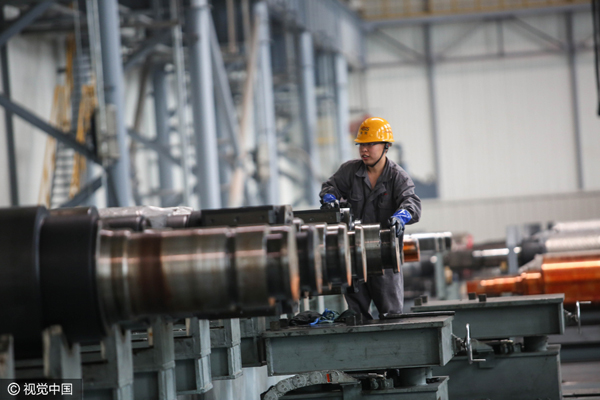 A worker at a steel plant in Tangshan, North China's Hebei provine. [Photo/VCG]
In a show of its firm determination to eliminate overcapacity in the steel sector, the central government recently extended punishments to the officials of two steel companies who were responsible for the violations of relevant laws and regulations.
The inspection teams sent by the State Council, China's Cabinet, found that Huada Steel Corporation in East China's Jiangsu province was still producing obsolete steel products from scrap steel and iron, which the authorities had identified as backward steel production that needs to be eliminated, while Anfeng Steel Corporation in North China's Hebei province had launched a steel smelting project without gaining official approval, as required.
Without the connivance and even encouragement of the local governments concerned, the two enterprises would not have had the boldness to ignore the directives of the central government. In fact, despite repeated instructions from the central government to cut overcapacity in some sectors after last year's Central Economic Work Conference, sluggish progress has been made to this end in some regions, especially in the steel and coal sectors that are seriously plagued by overproduction. Some regions have even seen the overcapacity elimination campaign as an opportunity to make new gains, transmitting a wrong market message.
China's previous extensive economic model played a role in increasing its gross domestic product, but that growth mode has also resulted in production in some sectors far exceeding the demand. If the excess production is not reduced, the survival of these sectors will continue to be at the cost of resources and environmental degradation, even put high-quality production or enterprises in a disadvantageous position and create new inequality.
It is to be hoped the punishments extended to the two steel corporations will serve as a reminder to others that the central government is serious about advancing supply-side structural reform and bidding farewell to the country's old economic growth model.