Working in China: Challenges and problems are learning opportunities
Editor's Note: In the wave of globalization and economic growth, a growing number of foreigners are coming to China in search of opportunities. With diverse purposes, some of them choose to work in the world's fastest growing economy, or some want to experience a cross-cultural environment and successfully integrate into it, while others go on to achieve their aspirations in China. Regardless, working or living in a cross-cultural environment isn't a walk in the park. At the end of the year, a time to reflect and start fresh, we rounded up some inspirational stories of six foreigners living in China. We hope these stories can inspire you in the start of the new year. Here is Ingrid Chen's story.
Ingrid Chen of Northern Ireland was 28 when she landed in Kunming, capital of Yunnan province, for a five-week course in Chinese. Now 52, she found a family, a career and a purpose during her years in China.
A teacher of the deaf in Northern Ireland, Chen learned Chinese sign language in Kunming and then worked in a program that teaches sign language, crafts and sewing skills to people over 16 from the rural areas around Kunming with no educational opportunities..
To help local disabled people who struggle to find an education and a job, Chen and some partners from the NGO established their own company in 2002, Hearts & Hands, to sell products made in the traditional style of Yunnan ethnic cultures that are created by the deaf and sold overseas.
She's never taken a salary for her work, so her family's daily expenses are covered by her husband, who is a woodworker. But Chen has never regretted starting her company.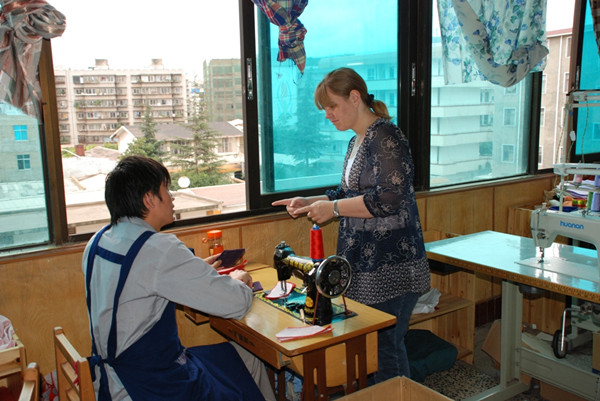 Ingrid Chen talks with a deaf worker to discuss sewing skills. [Photo provided to chinadaily.com.cn]
I love the challenge of working in China. Having a background in teaching but finding myself running a small social enterprise makes life even more of a challenge. It seems each year comes with new developments and new problems, but all are learning opportunities.
In 2016, our small sewing business reached further afield, selling products to people in different European countries and to the Middle East. We joined a large online craft market that gave individuals all over the world access to our products. One major hurdle has been with logistics, shipping products quickly and making sure they arrive safely. They haven't always reached their destination, which is frustrating for customers and us alike.
One discovery we made was the WeChat store. WeChat has done a fantastic job making it easy to set up and run a store. With little idea as to how it would work we put some of our products in the store and with one click, I sent our store details to all in my contacts list. Supportive friends then passed that on and in the first day or so we had over 7,000 views of our products. We continue to have thousands of daily views of our products and many sales of our beautiful products have ensued. Our products are now going out to all parts of China. Through online shopping the world for us has definitely become smaller and more accessible.