What's up, doc?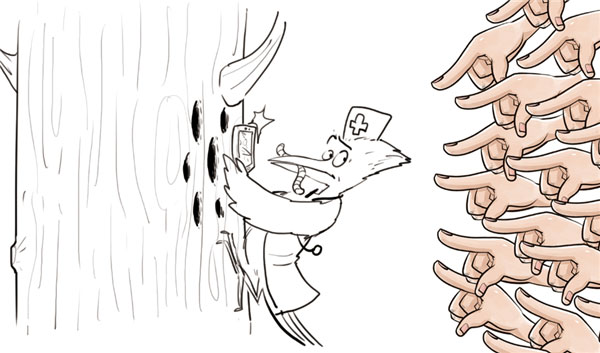 [CAI MENG/CHINA DAILY]
With an unusual display of riches, a medical professional calls into question public attitudes toward wealth and the need for better pay for his profession.
Ren Liming is a urologist with the Second People's Hospital in Chengdu, Sichuan province. He was thrust into limelight when he posted a photo of a down jacket he just bought-with the eye-popping price tag of 10,000 yuan ($1,400).
Some were amazed by his flaunting of personal wealth. They thought people in the healthcare industry should keep a low profile because of the prolonged tension between doctors and patients in China.
Many doctors have been accused of taking cash gifts from patients or their families-to the point that they represent a significant part of their income.
Admittedly, Ren's expensive jacket, together with the revelation that he makes 1 million yuan a year, raised the suspicion that his lavish lifestyle is built on this so-called gray income.
Just as he was supposed to be shedding tears of regret over the outburst of vanity, Ren came forward and divulged more personal information to a local reporter.
He owns three properties and about one-fifth of his annual income, i.e. 200,000 yuan, is from his day job at that hospital, an amount that he spends on clothing alone.
He derives other income from online consulting and offline teaching, practicing medicine at other places and making healthcare-related investments.
The purpose of "spilling the beans", he says, is to instill pride in young professionals who are just entering the business. He says many of his peers in the top echelon make as much as he does, or even more.
He also addresses the sensitive topic of "gray income", saying that if your legal earnings are high enough you'd have no incentive to take bribes.
But I suspect that his real motive is to promote his businesses as well as his personal name. Now that he is the best-known urologist in the city, requests for consulting would go through the roof, I imagine.
Which is not wrong, albeit a bit unconventional. If so, Ren was exploiting the nation's hate-the-rich mentality for his own good.