Lifting the soul of the nation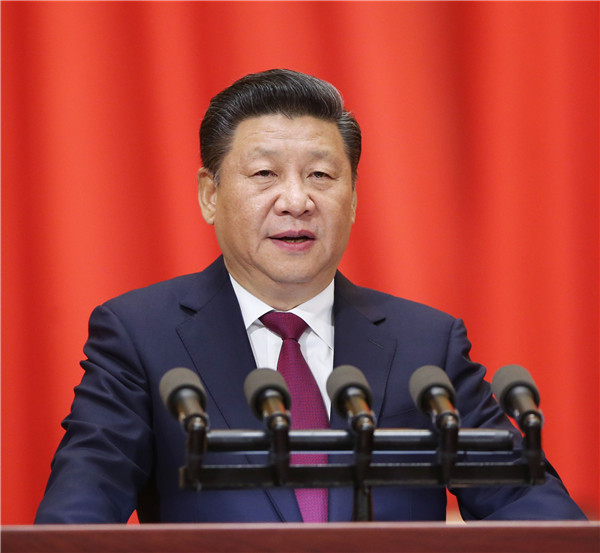 President Xi Jinping presented four expectations to guide artists and writers on Wednesday in Beijing.[Photo/Xinhua]
Speaking at Wednesday's opening ceremony for the 10th congress of the China Federation of Literary and Art Circles and the ninth congress of the Chinese Writers' Association, President Xi Jinping called on Chinese artists and writers to step outside their own space and let their hearts beat in time to the rhythm of the people's.
Calling people "the creators of history and sculptors of the times", Xi said their "deeds on an epic scale are abundant, we just need the ambition to make epic works".
He said the nation's literary and artistic works should be people-focused, and artists and writers should serve the people by inspiring them with works that encourage every Chinese person's "sense of national pride and honor".
He called for works that cater to the times and feature notable Chinese elements, which means artists and writers should have a profound understanding of Chinese culture and a high level of cultural confidence.
To realize the great rejuvenation of the Chinese nation, there is need for not only material development, but also for cultural works that reflect the times, inspire people and encourage them to realize their dreams.
Despite suffering setbacks and difficulties in its millenniums-long history, the continual survival, development and prosperity of the Chinese nation is inseparable from the vigor of its culture.
Artists and writers should drive home the knowledge that culture and the arts are closely related to a nation's destiny. Culture is the essence and soul of a country and a nation, and without cultural confidence, a country will lack an identity of its own.
Vivid stories are not in short supply in China, but the key is to tell them well. "We should sing and hop between the branches and leaves like little birds, and also fly and take a view from high above like eagles," Xi said.