Raise skilled workers' status to reduce kids' study pressure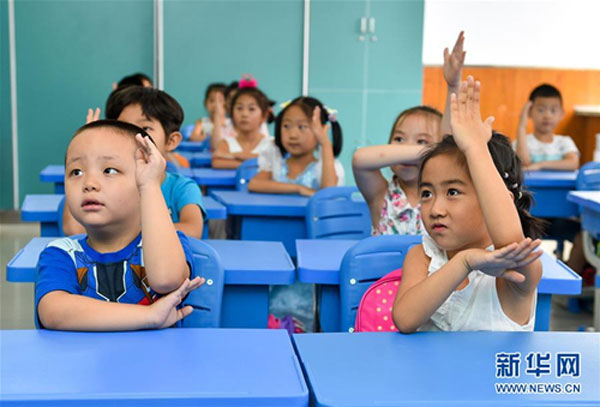 Students raising their hands in class. [File photo/Xinhua]
Should we send our children to after-school tutoring institutions to help raise their scores in exams and sharpen their competitive edge?
I know a number of parents who are caught in the dilemma of "to send" or "not to send". They often find it difficult to choose between giving their children adequate time for after-school rest and recreation and helping them stand out from their peers in a largely score-based evaluation system.
Indeed, it's a difficult choice to make. Young parents seem to be obsessed with their children's academic performance. Some attribute it to the Chinese tradition of respect for knowledge. But parents today are much more devoted to their children's academic record than ever before. Many parents can persuade their children-using all sorts of means-to spend almost all their after-school time, including weekends, attending different tutorials.
The People's Daily recently published a series of articles on this phenomenon, arguing that it reflects the anxiety of Chinese parents, mostly middle-class parents, about their children's academic performance, a mentality exacerbated by the crafty promotion tricks used by tutoring schools. For example, one of the articles says, some tutoring schools adopted a de facto hunger-marketing method to goad parents into enrolling their students.
Indeed, middle-class Chinese are obsessed with their children's academic performance and not all tutoring schools are clean or play by the rules. But what has caused all this?
Some accuse China's college entrance examination of helping create the anxiety among Chinese parents and students. The exam is still largely based on academic scores. It is a relatively fair and easy-to-assess method of evaluating the performance of applicants and leaves little room for corruption in the college enrollment process. But if one wants to get into a top university, the competition becomes terribly fierce, although China has greatly increased the number of students enrolled in colleges and universities since the mid-1990s.
In fact, in most countries, college enrollment is quite competitive because higher education resources are always limited compared with the demand from youths. Even if China changes its score-based evaluation system for college admission, the competition to get into a top university is expected to remain very strong given the country's huge population.
If we take a closer look at the issue, we will see the crux of the problem lies with the career assessment of Chinese people. In general, people think highly of youths who enroll in a college and become a white-collar worker or public servant upon graduation. That is the most desired career track that many parents design for their children.
Behind this preference is the big gap in salary and social status that comes with different jobs. For example, aside from often earning less than their white-collar peers, blue-collar workers face tougher working environments and don't have access to some economic benefits, such as those enjoyed by government or public institution employees.
Worse, many people "look down" upon such "low-level" jobs and do not want their children to become, say, a car mechanic even if they can earn more than some white-collar workers.
It will take a long time for such a mentality to change.
China has moved a step further in the right direction by encouraging the development of vocational education. In 2014, it issued a document on vocational education saying more vocational schools will be established in order to train more skilled workers. As the demand for skilled workers increases, their salaries could rise, too, encouraging more middle-school students who are eligible to study in vocational schools to take up myriad professions.
Policymakers are trying to deal with the problem of parents' dependence on tutoring schools to improve their children's scores by preventing public school teachers from teaching in private training institutions. But this method may not work given the strong demand for such institutions. The situation will not change much unless the government makes more efforts to raise the salaries of people employed in non-academic sector.
The author is a senior writer with China Daily.
xinzhiming@chinadaily.com.cn