Promoting quality academic research in sciences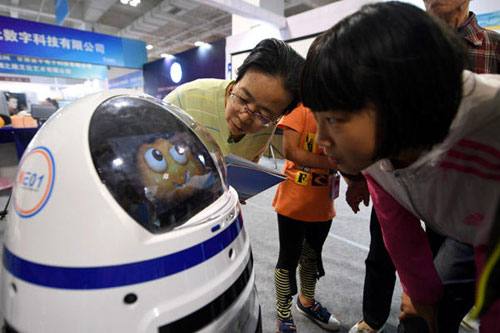 Visitors communicate with a robot named Xiaopang at the 2016 China Lanzhou Science and Hi-Tech Achievement Expo on Sept 24. [Photo/Xinhua.net]
A recent national policy allowing researchers in the sciences and college teachers to take up part-time jobs in a "modest way" according to the laws and regulations has raised public concern.
How to have a part-time job in a "modest way" that does not influence the academic work of teachers and researchers is crucial for the implementation of this new policy. To ensure the new policy promotes better use of knowledge, there is need for an effective support mechanism and reform of the existing modern school and research systems. Management and evaluation of researchers and college teachers should be focused on academic work. It should not be dominated by administrative and other factors, because that could undermine the value of knowledge.
The most important thing is to establish a scientific examination and evaluation system for researchers and college teachers. To be eligible to have a part-time job, researchers and college teachers have to be good at their academic work.
In recent years, Chinese universities have enhanced the standard of examinations for teachers and researchers. Still, the administration-oriented examination method has some problems. For example, some college teachers continue to hold their posts and even get paid despite not fulfilling their academic duties. Under such circumstances, encouraging college teachers and researchers to have a part-time job could affect their work because they may put in more energy and time to earn extra money.
Only when universities establish a sound education and academy-oriented examination and evaluation system can a situation be created for teachers and researchers to take up part-time jobs in a "modest way".
Evaluation is also important for part-time researchers and college teachers. In recent years, many Chinese universities have hired quite a few part-time university teachers. Some colleges expect them to teach and guide students toward academic research, but the others are only interested in the academic resources at their disposal and the weight their posts carry in the academic evaluation. Many part-time college teachers have no academic or research assignments despite being paid well, which is not conducive to raising the level of education or research.
The new policy says universities should sign agreements with part-time researchers and teachers to ensure the latter don't end up being freeloaders and are compelled to fulfill their duties.
More importantly, universities and research institutions should take steps to improve their management system, in order to prevent part-time teachers and researchers from taking advantage of the arrangement.
Many foreign universities allow teachers and researchers to seek part-time jobs, but they have a mechanism in place to prevent them from misusing the arrangement to seek personal gains. More importantly, the universities make sure the part-time jobs do not affect the academic work of the researchers and teachers. Some foreign universities even have regulations that give teachers and researchers the choice of either quitting their part-time jobs or leaving the institution within two years.
In fact, the best way to maximize the use of the knowledge that researchers and college teachers have is to raise their salaries and welfare benefits to allow them to enjoy and excel in their academic. University teachers and researchers should get enough salaries to live a decent life and have access to sufficient resources to carry on their work. This will enable them to raise the levels of education and research. But to raise the level of research, and to promote innovation and creativity, institutions of higher education also have to create a good environment for researchers and teachers. Plus, universities should have in place a peer-review system for academic research to prevent plagiarism and raise the level of academic research.
The author is deputy director of the 21st Century Education Research Institute.