China's hunting for corrupt fugitives is justifiable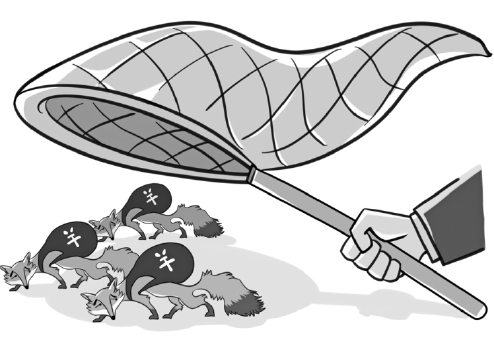 LIU XINYI/CHINA DAILY
Yang Xiuzhu, China's most-wanted fugitive who fled overseas 13 years ago, returned to Beijing and turned herself in on Nov 16, marking another victory in the country's campaign against corruption. The former deputy director of the construction department of East China's Zhejiang province has been accused of embezzling 250 million yuan ($36.3 million), making her the most-wanted on China's "red notice" list of 100 corrupt officials released by Interpol last year.
She is the 37th fugitive who have recently returned to the country-although most of them were persuaded to do so. To hold them criminally accountable, China has the right to use repatriation and extradition rules in accordance with the United Nations Convention Against Corruption and bilateral extradition treaties.
What prompted Yang to end her days on the run was not that the Chinese government had been "pressuring her family". After being charged by the US judicial authorities and detained in the country thanks to close law enforcement cooperation between China and the US, she had no option but to return to confess to her crime.
Beijing's hunt for corrupt fugitives who have fled the country to avoid punishments is justifiable and in line with its efforts to safeguard national interests and promote fair market competition. That some Western media outlets try to make far-fetched connections between China's anti-corruption campaign and its human rights record, which in fact is decent, is nothing more than a targeted smear campaign.
China needs the judicial assistance and cooperation of other countries, especially the popular destinations for Chinese outlaws such as the US, to cleanse its domestic investment environment. But some countries have tried to use Chinese corrupt "asylum-seekers" as a bargaining chip in other bilateral issues with China. They have stalled the Chinese government's repatriation demand in the name of legal reasons, which in turn "inspired" more Chinese corrupt officials to seek havens abroad.
Despite that, China stands firm on its anti-corruption promises no matter where the wrongdoers flee. Its judicial organs have stipulated a set of laws and are negotiating extradition treaties with more countries to bring fugitives at large to justice. China has also revised its laws to protect the human rights of those on the run, and no one has faced the death sentence till now after extradition or repatriation. The open trials of cases involving foreign defendants are easily available to consuls of the countries concerned.
Persuading wanted fugitives to surrender involves making contacts with their friends and relatives who can help them make the right decision. Such a universal approach in combating crimes is about alleviating the suspects' culpability as well as defending their legitimate rights. China has never sought to nor will it overstep the legal boundaries.
It is also noteworthy that some corrupt officials took away with them considerable national assets while fleeing the country. Apart from bringing them back to face trial, Chinese judicial authorities have also made extra efforts to retrieve the misappropriated assets. But there is still a long way to go, as several Western countries have only paid lip service to China's fight against corruption without returning the ill-gotten wealth.
Haggling over how to deal with these illegal assets with Beijing in the name of defending the primacy of their domestic laws is no different from harboring corrupt fugitives. China has to plug up the loopholes that some fugitives "volunteer" to come back at the cost of their own freedom, in a bid to ensure their children (and other relatives) overseas could still feast on their embezzled money.
The UN Convention Against Corruption makes clear the obligations of relevant countries in this regard. On their part, China's procuratorial organs and courts should make the confiscation of the illegal assets looted abroad by wanted fugitives a part of the Criminal Procedural Law.
The author is a professor of law at Zhongnan University of Economics and Law.